Honors English 2 Creates Awareness for Social Justice Issues
The major social issues in the world right now: racism, sexism, homophobia, ageism. Honors English 2 classes picked a social issue to create a social media campaign. The project was inspired by the book Night by Elie Wiesel. Wiesel warned about the dangers of staying silent and giving that power to the oppressor. Honors English 2's job was to combat hate and create awareness about their topic so as to not stay silent and not give power to the oppressor like Wiesel wanted.
"In class we were learning about the Holocaust and antisemitism so this project about the different forms of discrimination we see/experience definitely connected to that. In the book Night as well as a book we read earlier in the semester called Homegoing, there were multiple examples of discrimination and hate, so I really like how the purpose of the project was to learn how to combat those evils, sort of like a conclusion to those units," commented sophomore Maichi Nguyen. The parameters were to create four to six posts that included facts, information, and hashtags regarding their topic.
The students voted and came up with their top choices for each class. In Ms Moritz's second hour, first place went to Samantha Green, second to Elise Banks, and third to Isabelle Usry and Anna Burke (a tie vote). In Ms. Moritz's fourth hour, Da'Shon Dunn and Maliyah Harris tied for first, and Maichi Nguyen and Rebecca Simpkins tied for second place. In Funderburk's class, Kateryna Horbonova, Athena Housley, Katherine Kellner, and Sarah Lewis were chosen as the top social media posts.
Maichi Nguyen chose to do her project on colorism. "In my opinion, colorism is so important to talk about because it goes hand in hand with the racism and discrimination we see today. Having lighter skin, I can never truly understand how my friends and classmates with darker skin feel being stereotyped, made fun of, etc. Not many people acknowledge the problems with colorism in communities of color. I'm so glad to see more people talk about it on social media though, and now than ever I think it's really important to recognize these issues."
For her winning project, Isabelle Usry focused on police brutality. "I choose this topic because over the entire catastrophic year of 2020, this seemed to have a big impact, as well as change my mindset on things. Police brutality was at an all time high this year and most cases are being swept under the rug. That is disgusting, so many names and stories need to be read, said, and heard."  She hoped that her project educated others and felt very strongly about her topic. "I like the way this project opened up my eyes, as well as others. It showed us how crazy, unfair, and greedy the current society we have truly is."
Check out the winners' full campaigns here:
Samantha Green
About the Writer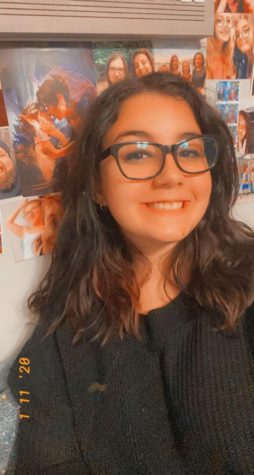 Ava Bearskin, Editor-In-Chief
Ava Bearskin is Co Editor-in-Chief of Pattonville Today and Pirate Press. Ava has taken Intro to Journalism and Photojournalism at Pattonville High as...