Seniors Recognized by the National Merit Program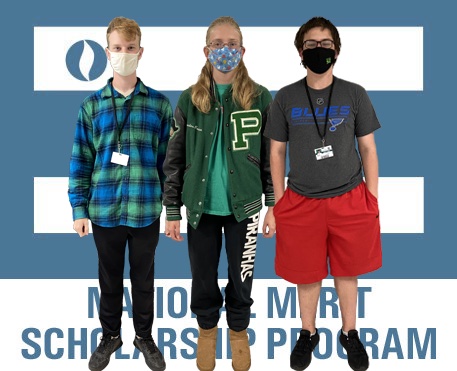 Kalista Roades, Thomas Clifford, and Henry Winfrey all earned the title of being National Merit Scholars. The three seniors at Pattonville were recognized for their academic achievements.
The National Merit Program's mission is to promote wider and deeper respect for learning, give a spotlight for brilliant students, and stimulate support for scholarships for outstanding talents.
The program recognizes about 34,000 students every year. In order to get commended, each student must meet certain requirements that they would have to achieve in order to get commended.
Around 1.5 million high school students will enter to get commenced every year. To enter the program, students must be enrolled as a high school student in the United States, and take the PSAT during their junior year of high school.
The students, in Missouri, must have a selection Index score of at least 217 to get commended. Some selected students will then go on to be entered in the semifinalists. Out of those students, about 15,000 students will move on to enter the finalists.
The winner of the Merit Scholarship awards is based on the student's abilities, skills, and accomplishments.
Some students will have to review certain skills before they take the PSAT. "I studied geometry before taking the PSAT because it had been many years since I had taken the class," Kalista Roades said.
There are also many different scholarships that the program winners could achieve.
Roades, Clifford, and Winfrey were commended by the Program, but still achieved a great accomplishment.
All of them took the PSAT during their junior year and studied subjects like math, reading, and writing. Once they had taken the test and received their scores they realized they'd gotten commended.
When the three seniors had received their letter stating they were commended, they also received free Cardinal tickets. "I was glad that I was commended and excited to get free tickets to a cardinal game," Kalista Roades said.
The students who know about the program take the PSAT in hopes of getting recognized. Recognized students may all have different initial reactions.
"I had a feeling of pride and happiness that I had done well enough to be recognized," Thomas Clifford said.
The future for the three Pattonville students will not look much different, other than them potentially getting more scholarship money.
To find out more about the program, go to their website at NationalMerit.org.