Pattonville performs "And Then There Were None"
Hang on for a minute...we're trying to find some more stories you might like.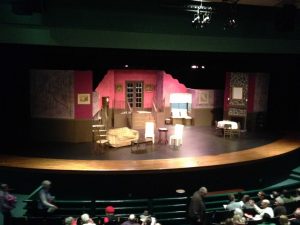 Since the first day of school, the Pattonville thespians have been hard at work to perform Agatha Christie's "And Then There Were None."
This murder mystery is about eight guests who are all invited to a deserted island and are marooned there. Each guest is accused of getting away with murder because one by one each of the guests begin to meet their death.
"I'm excited to see the fall play!" Megan Mellring, senior, said about the show. "I have seen every fall play since my freshman year and each year the drama department puts on an even better show than before. This play should be dramatic and compelling."
But the actors have another opinion about it, especially those who have been involved in the group for four years.
"I'm sad that this will be my last Pattonville fall play," Jacob Painter, senior, said about starring in one of his last Pattonville productions. "We have a great cast and it has been so much fun to work with them. I hope to see everyone come out and support us."
Agatha Christie's "And Then There Were None" will be at the PHS Auditorium Oct. 17-19 at 7 p.m.
The box office opens at 6 p.m. each night. Tickets are $3 for students and adults are $5.