Photo of the Day: Jan. 10, 2014
PattonvilleTODAY staff
January 10, 2014
Hang on for a minute...we're trying to find some more stories you might like.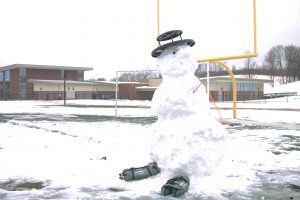 A snowman was discovered at the football stadium this morning after students returned to school after the district canceled for four snow days. In addition to the regular winter break, students were away from Pattonville for a total of 20 days.
Students were in their new second semester classes on Friday and will have another two days away from school because of the weekend.
Next week students will not have school on Friday because of a scheduled staff development day, and the following week school will not be normal because it is closed on Monday, Jan. 20, for Martin Luther King Jr. Day.
The first normal week of school this semester will be Jan. 27-Jan. 31. But maybe not if we receive more snow.