Pirate Code offers Attendance Incentive Plan
PattonvilleTODAY staff
January 16, 2014
Hang on for a minute...we're trying to find some more stories you might like.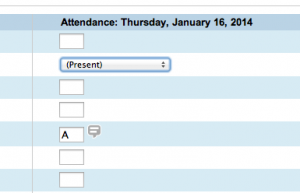 Students learned about the importance of attendance today during their Pirate Connections lesson sponsored by the Pirate Code.
"I learned that it's important," senior Taylor Bailey said. "It's not about just us, it's about the school."
The Missouri School Improvement Program expects 90 percent of students to be in attendance 90 percent of the time. To break it down, that's about 16 days a year or 8 days absent a semester.
From high school attendance records released in November 2013, no entire grade is currently over the 90 percent expectation.
Sophomores lead the school with 89.7 percent of students attending school 90 percent of the time. Juniors (88.6 percent), freshman (86.7 percent) and seniors (85.3 percent) follow.
To help those numbers improve, individual students that have over 90 percent attendance rates will be rewarded with incentives that will be offered.
Bailey said prizes could include a chance for gift cards for making a half-court shot at a basketball game, drawings for $10 to spend at the STUCO Store or even a special parking space for one week.
"The prize that I hope for is a prom ticket or the reserved parking spot."
Students are learning the importance of showing up and being on time to school, which could be considered their full-time job.
"If you don't show up to work, it could cause you to get fired," Bailey said. "If you need a reference from a coach or teacher for a job or college, you might not be able to get a good one."
According to the student handbook, once a student exceeds 8 absences in a class, attendance probation could be enacted.
Bailey thinks this is a good thing for the school to be addressing because "not showing up to school could catch up with you later on in life because it is a bad habit to break."