Prom court nominations announced
PattonvilleTODAY staff
March 11, 2015
Hang on for a minute...we're trying to find some more stories you might like.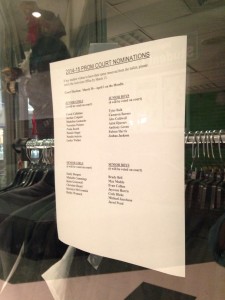 Prom court nominations were announced today and the list is posted on the Stuco Store window.
"I was really surprised," Brady Bell said. "It's an honor to be on the court. There are so many people that deserve to be on this list and I am just lucky to be nominated."
Jordan Colquitt was shocked to learn that she was nominated.
"I never expected to be a contender for prom court," Colquitt said. "Ever."
She immediately texted her mom after finding out she was nominated. Her mom's response was "Oh really? How did that happen?"
Students needed to be nominated by at least three teachers to earn a spot on the ballot. If any student wishes to have their name removed, they must notify the Activities Office by Friday, March 13.
Court Elections will be March 30 and April 1 on the Moodle.
SENIOR GIRLS (6 will be voted on court)
Emily Burgess
Michelle Cummings
Katie Greenwell
Christine Hamil
Kierstyn McCormick
Hailey Womack
SENIOR BOYS (6 will be voted on court)
Brady Bell
Max Bodde
Evan Collins
Jayveon Harris
Cody Hicks
Michael Jacobson
Jared Pond
JUNIOR GIRLS (4 will be voted on court)
Cassie Callahan
Jordan Colquitt
Madeline Gamache
Veronica Pointer
Paula Routh
Natalie Siegel
Natalie Solorio
Lesley Walker
JUNIOR BOYS  (4 will be voted on court)
Tyler Balk
Cameron Barnes
Alex Caldwell
Azim Djuraev
Anthony Green
Fabian Harris
Joshua Jackson