Cheerleaders excited to travel back to Mizzou to support football players
Hang on for a minute...we're trying to find some more stories you might like.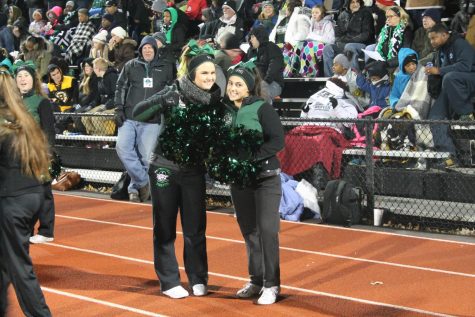 The varsity cheerleaders were at Mizzou on Oct. 29 to compete in the cheerleading state championships where they finished in 3rd place.
The cheerleaders are now very excited to go back to Mizzou to help cheer the football players on to win state.
With the football season continuing into the late part of November, Kathryn Wentz said the weather has been getting colder every week.
"At that last game, we were so freezing it was hard to even be excited that the boys made it to state, but we are definitely proud of them and excited to go back to Mizzou to cheer them on," Wentz said. "Even though it will be super cold again."
The cheerleaders have been waiting all season for this game to come. The Pattonville High School varsity football team has made it to the Missouri Class 5 State Championships and will play Staley High School at 7 p.m.
The semifinals game was this past Saturday on the Pattonville turf. Pattonville played Fort Zumwalt North and the Pirates won, 26-7. This advanced them to the state finals which will take place at the University of Missouri – Columbia. The game will be played Nov. 25 at 7 p.m. and Pattonville is playing Staley High School. Staley is part of the North Kansas City School District.
Tickets for this Saturday's game are $10. The high school has sold out of it's pre-sale tickets but additional tickets will be sold at the University of Missouri before the game.