State Championship Recap: Pirates vs. Falcons
Hang on for a minute...we're trying to find some more stories you might like.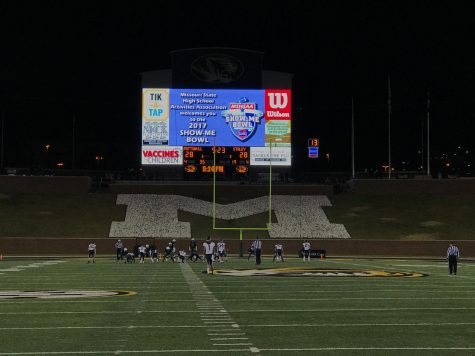 The 2017 Class 5 MSHSAA Show-Me Bowl against Staley last Saturday night was by far the best football game I have ever witnessed.
Pattonville had taken a 35-28 lead off of Kaleb Eleby's 20-yard pass to Charles Shelton with just 57 seconds left on the clock.
But the 36-35 game was determined with only 9 seconds remaining.
The Staley Falcons headed into Saturday's game a perfect 13-0, having no problem breezing through their competition during the regular season. The Falcons had three shutout wins within four games with the biggest blowout being a 60-0 win against Central (St. Joseph) in the District 8 semifinal game. During that 4-game stretch, the Falcons outscored their opponents 214-7.
Blue Springs South was Staley's biggest challenge of the season holding the Falcons to only a 4-point win (41-37) in Week 4.
To shock even more readers with the scoring prowess of Staley, they won their state qualifier game 54-13 against Carthage High School.
Staley had absolutely no challenges putting up points this season being the Goliaths of Kansas City football. The Falcons outscored their opponents 680-184 this season.
Pattonville came into the game 9-3 on the season scoring 399 total points and holding their opponents to 245. The Pirates biggest win came in a 48-0 shutout in the District 2 championship game.
On paper, all signs pointed to Staley.
Staley thought that they would breeze their way through the state title game but Pattonville didn't let that happen. This game was definitely David (Ellison) vs Goliath.
Pattonville did everything right in the Class 5 championship at Mizzou to make it a close game. The Pirates even took the lead after Charles Shelton's touchdown with under a minute to go.
They had the state championship in their grasp. They had the momentum.
But luck was on the side of Staley.
After Zach Elam caught a 9-yard pass for a touchdown with 9 seconds left in the game, Staley decided to go for the 2-point conversion because they feared they wouldn't win the game if it was forced to overtime.
After the Staley touchdown, John Raybourn ran to his right and threw a pass that went across the field to the left side of the end zone and landed right into JD Benbow's hands for 2 points.
I was calling the game for Pirates Sports Net on Facebook Live and there was no word to describe the Pattonville sideline and fans better than heartbroken.
Both Kaleb Eleby and Charles Shelton had monster games.
Eleby threw for five TDs going 29-for-44 on passing attempts while picking up 410 yards. Shelton was on the receiving end of 11 passes taking 3 of them in for scores, while gaining 205 yards.
The Pirates defense held strong picking off John Raybourn twice and forcing two turnovers by fumbles. Raybourn had only been picked off twice in the regular season coming into the game with an impressive passer rating.
Raybourn had a stellar night running the ball with 101 yards rushing (Yes, he's a quarterback), but the MVP of the game hands down had to be Staley's defensive end/tight end Zack Elam. He had a three-sack night (Eleby was caught a total of 7 times), three receptions for 102 yards and 2 touchdowns, and one interception returned for a touchdown.
He also caught the game-defining touchdown and helped the defense with his pursuit and pass pressure.
The game was amazing to watch and I'm so glad I got to see my high school play for a state title.
At the end of the day, I'm glad it was a competitive game that came down to the wire instead of a blowout win that both teams had throughout the season.