Pattonville bowling faces off against itself in league play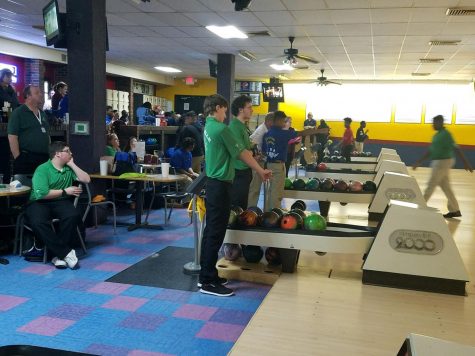 A Pattonville bowling team was guaranteed to win on Sunday, Jan. 21, when Pattonville Green bowled against Pattonville White in a league match-up.
Pattonville has three separate teams of at least five bowlers and it was Pattonvilles' turn to play against each other. Green will play White no more than twice, if that, throughout the year.
For some people it is fun to play against their own teammates, but also a little intimidating.
Senior Anthony Bell is one of the five athletes on Pattonville Green that got to bowl against White and thought it was a good game.
"It was fun to bowl against them because we all knew one another, but challenging because they gave us a run for our money," he said.
The Green team is one of the better teams from the league, but since they are such a good team, they don't have a high combined handicap like White does. The players from Green average between 150 to 190, while White averages about 120 to 150 at the most. A bowling handicap allows bowlers to compete against others with varying levels of skill and ability with an equal chance of winning. A bowling handicap is a percentage of the difference between your average and a basis average.
Pattonville continues its tournament season this Sunday when they travel to Sunset Lanes to compete at noon.
There is still room to join the Pattonville bowling team. Practices are on Wednesdays from 3:30-5 p.m. at King Pin Lanes and all students are welcomed.