Plan to attend the St. Charles Regional College Fair
PattonvilleTODAY staff
August 21, 2012
Hang on for a minute...we're trying to find some more stories you might like.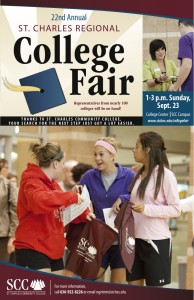 22nd Annual St. Charles County Regional College Fair
1-3 p.m. Sunday, Sept. 23, 2012
Located in the College Center at St. Charles Community College
Choosing Your College – What Is Important to You?
Ask questions of college representatives that will help you determine which college is right for you. This list of commonly asked questions may help you.
Does this school offer the majors you are considering?
What is the tuition and what kind of financial assistance is available?
Where is the college located?
What kind of housing is available?
Are there jobs on campus?
What are the job placement/career opportunities of graduates in the majors you are considering?
What is the enrollment and student/teacher ratio?
What kind of library facilities are available?
What kind of extracurricular activities and athletics are available?
Is there any kind of religious affiliation?
Remember, only ask the questions that are important to you!
St. Charles Community College is committed to providing access and reasonable accommodations for individuals with disabilities. Please email [email protected] with your accommodations request. It is recommended that you contact the college 10 business days prior to the event. See Accessibility for Campus Guests.