Pirates control Statesmen with running game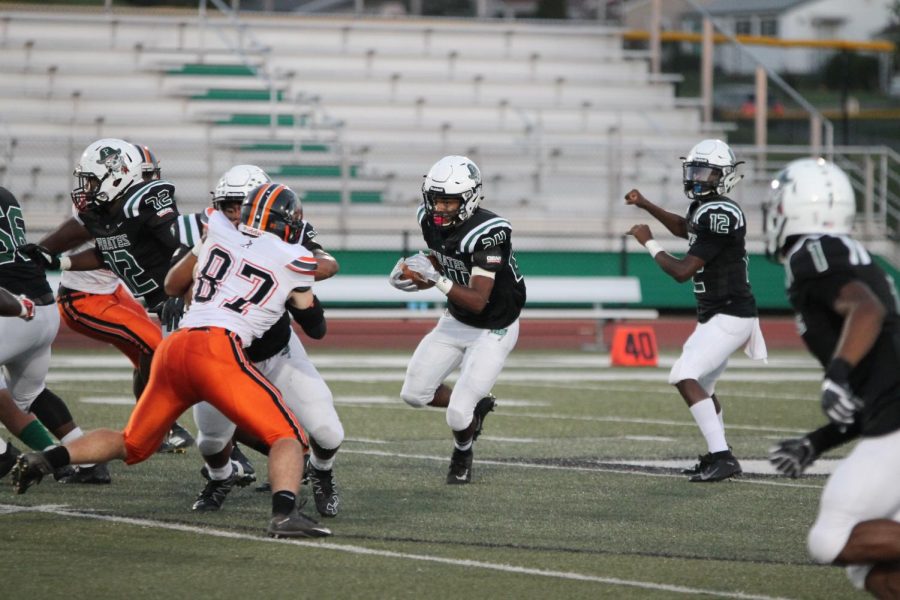 Fans that looked up at the scoreboard on Sept. 14 saw Pattonville score 51 points against Webster Groves. It's the most points the Pirates have totaled in a game since they scored 55 points twice in 2015.
The burst in scoring is thanks to a strong ground game led by quarterback Andre Webb and running back Sam Sanderson.
In fact, if high school football had a Fantasy League, people might be picking up the Pirates running back with their first round pick.
Sam Sanderson has totaled 403 yards on 53 attempts averaging 7.6 yards per carry.
In the 51-7 victory against Webster Groves, Sanderson scored three times and is now ranked among the area leaders with 11 touchdowns through four weeks. Cole Mueller from Wentzville Holt is the area leader with 14 scores.
Webster Groves is now 0-4 for the first time since 2006. The Statesmen have been outscored 159-27 and have not scored more than 7 points in any game so far.
The Pirates (3-1) came out firing on all cylinders and put the game away early scoring 31 points in the first quarter alone.
Webb escaped the pressure of the defense and ran 33 yards into the end zone with ease scoring on just the Pirates' second play of the game.
Sanderson also added two touchdowns in the opening quarter breaking free for an 11-yard run and a huge 76-yard scurry to the endzone.
Webb thinks the team is excelling with the running game this season.
"The line came out there and did their thing. They were blocking well and making sure I hit the holes correctly," he said. "I just wanted to make sure that I would hit the holes correctly and get some blocks, but I also wanted to make sure the running backs were hitting the holes correctly too. As our lineman blocked throughout the game for me and the running backs, we were successful at the end of the day."
The only hiccup was an 83-yard kickoff return by Kameron Yancey of Webster Groves.
The game ended with 1:57 left to play due to a Webster Groves player getting injured and needing immediate medical attention.
Kirkwood (4-0) now comes into Pattonville with an undefeated record and ranked No. 3 on the St. Louis Post-Dispatch Large Schools rankings. The Pirates are currently On the Bubble..
Sophomore Xaivier Tipler is excited for the match-up between two of the top local teams.
"We're excited for the game and definitely looking forward to playing Kirkwood."
Pattonville travels to Rockwood Summit for their next game on Sept. 28. Kickoff is at 7 p.m.