PHS students earn Certified Nurse Assistant credentials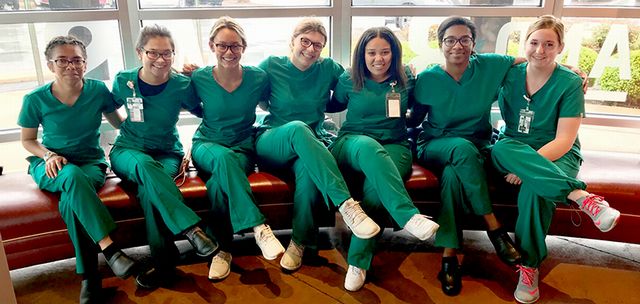 Seven Pattonville High School seniors recently earned certification as a Certified Nurse Assistant (CNA) after completing their CNA training at Pattonville and passing the state certification exam.
The CNA certification requires students to complete 75 hours of rigorous classroom training, 100 hours of on-the-job training and successfully complete a two-part final examination. Students can use their certification to obtain work in health and medical fields.
Danielle Eckhardt, a senior at Pattonville High School, had a few thoughts on the CNA program.
"The first semester was really fun. The mannequins that we used were helpful to learn a lot of the different skills that we need to know when we have our check off, but there is a lot of book work that needs to be completed before you can move onto the more hands-on part of the class," she said. "Theres' a lot of studying, but if you are really dedicated to the class and you're studying, you will be fine."
The second semester of the full year class was a lot different than what she thought it would be.
"You get to connect to a lot of the residents in the nursing home and help them with their daily activities," she said. "The relationships with the residents and the workers at the nursing home is very important. If you do something wrong or you don't feel comfortable in a situation, all you have to do is let someone know and everything will be fixed."
Learning to be a CNA, they get the full experience of working in the medical field. Sometimes, those experiences are difficult to deal with.
"One of the hardest things that has happened is one of the residents that I was working with ended up passing away and it was hard on me for a little while because that bond was gone, but I truly have so much fun in the CNA class."
In order to take the high school course, students must have a 2.0 GPA, a teacher recommendation, and have successfully completed Biology and Health. It's also recommended that students take Anatomy either before enrolling in the CNA class or concurrently.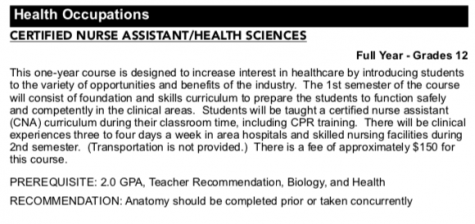 Tara Krato, an alumnae from Pattonville High School that was also enrolled in the CNA program, also has a few thoughts.
"The experience I had in the CNA program was amazing. I developed strong relationships with the residents and [CNA teacher] Ms. Anjie Stendeback," Krato said. "It is nothing like I thought it would be. Helping the patients with their everyday activities and watching how hard it can be sometimes to do everyday things."
Her favorite part was something new would happen everyday.
"Even though it felt like I was on my feet for hours and hours, I enjoyed learning new things and if I made a mistake, I could go get Ms. Stendeback or one of the other nurses that were there. Overall I enjoyed the CNA program."
The CNA program is a really good opportunity to take advantage of at Pattonville because at the end of second semester, students take the NCLEX exam which certifies them to be a CNA and work in a hospital immediately after their high school graduation.
If students are interested in nursing, they should try to get into the CNA program during their senior year.