Making Waves at State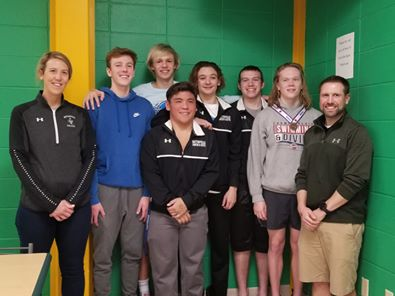 Lillian Lofland, Contributing Writer
November 18, 2019
Hang on for a minute...we're trying to find some more stories you might like.
The PHS boys swimming and diving team has had a spectacular season. The boys have worked incredibly hard to achieve many goals. Their determination shows because not only have the boys won a majority of their meets, but they took eight members to state state qualifiers and broke school records that had been standing since the 90's.
Their hard work paid off when they had three individual swimmers qualify for state. Phillip Tso for 100 M Butterfly, Chaska Cox-Potter 100 M Breastroke, and Wyatt Martin 100 M Breaststroke. Along with this feat, Phillip Tso and Chaska Cox-Potter broke the school's 100 M Backstroke record which had been standing since 1999. Chaska Cox-Potter also broke the school record for the 100 M breaststroke. The boys were all very excited when they learned they would be going to state, especially Phillip Tso, "I feel like a weight is lifted off my chest because I was able to focus on my other races once I knew I made it to state."
The boys headed to state with seven boys: Christopher Tobar, Philip Tso, Chaska Cox-Potter, Nathan Moser, Wyatt Martin, Isaac Reddy, and Isaiah Loparco. The boys all competed with their teammates at state. Wyatt Martin and Chaska Cox-Potter competed in the 200 IM, in which Wyatt placed 24th and Chaska placed 31st. The 200 M Freestyle Relay had Chris, Isaac, Nathan, and Isaiah; they placed 28th. Phillip Tso swam the 100 M Backstroke and placed 26th, and Wyatt Martin Swam the 100 M backstroke as well and placed 17th. Phillip Tso placed 15th in state for the 100 M Fly, Chaska Cox-Potter placed 8th in state for the 100 M breaststroke, and the 200 Medley Relay (Chris Chaska, Phillip, Wyatt) placed 10th overall in state.
In addition to these swimmers, PHS sent one diver, Kyle Hubbs. Hubbs placed 14th at state, breaking his long standing record from two years previous of 19th place.
These boys have put in a tremendous amount of work and they have had the determination to get them to state. The boys swim season is finally over but their hard work will be remembered long after their season is finished.
Congratulations to all the boys who swam at state and placed!