Stop Day for high school students is on Friday, Jan. 24
PattonvilleTODAY staff
January 21, 2014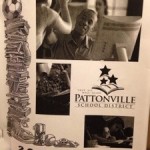 UPDATED: Because of the snow day on Tuesday, Jan. 21, Stop Day has been rescheduled for Friday, Jan. 24.
"I want to take an English class."
OK, but it's more complicated than that.
Stop Day is on Friday, Jan. 24.
While some students might already know what classes they want to sign up for next year, others have no idea.
For classes that might fit your learning style, make sure you talk with your current teachers for suggestions.
You can also check out this Storify for Stop Day tips.