ANNOUNCEMENTS January 23, 2014
Alyssa Potter
January 23, 2014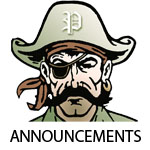 ATTENTION TO NHS MEMBERS THAT SIGNED UP TO HELP WITH THE CHESS TOURNAMENT ON SATURDAY:  Please see the board outside of Ms. Shearrer's room for some important changes.  Also, please cross out your name if you are no longer available to help.
PALS APPLICATIONS ARE DUE today, January 23 by 3:00.  Please pick up an application outside room B102 or E201 and return it to Mrs. Kuhn's mailbox.
COMMUNITY SERVICE OPPORTUNITY:  Holman needs 6 – 8 volunteers for daycare for a charity Trivia night tonight, January 23. You will need to report to Holman from 5:30 – 9:00pm.    Sign up in the CSO immediately.
CONTACT TIME MEETINGS TODAY, JANUARY 23:
THERE WILL BE A BOY'S GOLF MEETING for all returning golfers and anyone interested in playing golf this spring.  Please meet with Coach Lingua in room G207B in the Positive School hallway.
MINORITY ACHIEVEMENT CLUB will meet in room D205.

CARING FOR OTHERS will meet in room E207.
FEA will meet in room E210.

THE TRACK MEETING will be held in the main gym.

ALL DECA MEMBERS need to attend a meeting in room B212.

GIRLS SOCCER MEETING – FOR ALL LEVELS – in Coach Iffrig's room, G106.

GERMAN CLUB will meet in room H108.

SPANISH CLUB will meet in Mr. Shaw's room, H104.

There will be a RENAISSANCE MEETING in room D109.

There will be an INTERNATIONAL CLUB MEETING in room B107.

SNHS has a meeting in room H114.

KNITTING CLUB will meet in Ms. Mulanax's room, E206.
A+ INFORMATION:  Reminder: The first A+ tutoring training session for 2014 will be held today, January 23 from 1:15 to 2:15.   Sign up immediately in the A+ office (room E200).  You must attend one training session before starting to tutor students.
PIRATE PRIDE will hold a mandatory meeting today, January 23 right after school in room D209.
SENIOR SWEATPANTS are available for pickup in room H100.  If you ordered sweatpants, pick them up in H100.
WE'RE OFF TO A GREAT START WITH STUDENTS AND STAFF SIGNING UP TO FIGHT CHILDREN'S CANCERS THROUGH FUNDRAISING FOR THE ST. BALDRICKS FOUNDATION.  One small change is that hair donations will now go to Locks of Love and can be from 6 to 10 inches in length.  Students wishing to participate in the fundraiser should return a completed permission form to Mr. Fader in room G114.  Permission forms may be picked up outside the Activities Office or in Mr. Fader's room.  Please feel free to email Mr. Fader with any questions at 

[email protected]

.
TOMORROW, JANUARY 24 IS THE LAST DAY TO APPLY FOR THE 2014-2015 PIRATE PRESS AND ECHO.  Pick up an application outside Mr. Heyman's room, B110.  Consider this your first deadline.
KEY CLUB:  There will be a meeting after school on Monday, January 27 at 2:30 in Mrs. Gossett's room, H217!  If you cannot attend, make sure to let an officer know.
COMMUNITY SERVICE OPPORTUNITY:  Volunteers are needed to help with childcare, for a new support group for parents with special needs children, in the Early Childhood Program.  The location is at the Learning Center once a month on Tuesday evenings from 6pm to 7:30pm.  (Dates are: January 28, February 25, March 28, April 29 and May 20.)  If interested, stop by the CSO (room E200) to sign up.
UPCOMING EVENTS, SPONSORED BY STUCO, IN FEBRUARY:
Starting Feb. 3:  Will be able to purchase CARNATIONS FOR VALENTINE'S DAY
February 21:  The MY TIE DANCE (girls ask the guys) following Mr. PHS
February 22:  Come take the Plunge into Creve Coeur Lake in the ANNUAL POLAR PLUNGE
Stay tuned; more info to follow…
THE WORD OF THE WEEK IS JUXTAPOSE (jukta·poz).
Here are ways juxtapose is used:
In his lecture, the professor can juxtapose the two different concepts of freedom.
To show how the characters differ in thinking, I will juxtapose the two passages.
PIRATE CODE INCENTIVES THRU TOMORROW, JANUARY 24:
Weekly Winner – $5 QT Gift Card
Attendance Games Winner – $10 STUCO Bucks
WINNERS TO BE ANNOUNCED TOMORROW!!!!
Remember the Pirate Code.  Be Respectful.  Be Responsible.  Be Involved.  
TODAY'S ATHLETIC EVENTS:
Varsity/JV/Freshman Wrestling, home, against Riverview and DeSmet at 5:00.