ANNOUNCEMENTS August 16, 2016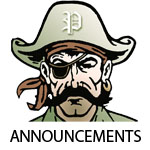 PattonvilleTODAY staff
August 16, 2016|1 Views
THE PATTONVILLE ROBOTICS TEAM is looking for new members for the 2016-2017 competition year.  If you enjoy building things, programming, solving problems, or learning something new, join us for an information session on Tuesday, August 23 in room B209 from 2:30 – 5:00pm.  See Mrs. Mathis if you have any questions.
-Read-More-
PARKING ON THE SCHOOL LOT IS BY PERMIT ONLY.  Due to the number of spaces available, the number of parking permits are limited and are only issued to students who have prior approval.  Students who fail to follow parking regulations are subject to disciplinary action.
STUDENTS WHO USE PATTONVILLE'S BUS TRANSPORTATION need to report to their bus on the bus loop immediately after school.  Buses start rolling shortly after school dismisses.  Please be prompt!
AUDITIONS FOR THE FALL PLAY, LITTLE WOMEN, are after school today, August 16.  Please see Ms. Corvera in room A213 for information.  Student Leader and Crew applications are due today, August 16.
THE FIRST FREE MATH ACT REVIEW SESSION will be held tomorrow night, August 17 from 6:00-8:00pm. in room H215.
STUDENT COUNCIL APPLICATIONS are available in the STUCO store, Activities Office, and outside of room D206.  Be sure to complete the application and return it to the Activities Office by Friday, August 19.
ANYONE INTERESTED IN JOINING BSAAC:  Applications will be posted outside of room D206 and are due to Mrs. Saxton by Friday, August 26!
THE STUDENT COUNCIL STORE AND NEW COFFEE STATION are now open!  Stop by to check out new apparel and grab a refreshing drink!
THE MATH HELP CENTER, room H118, is now open before and after school Monday – Thursday.
ANYONE INTERESTED IN BEING PART OF THE PHS SPEECH & DEBATE TEAM THIS YEAR is invited to attend a Welcome Meeting this Thursday, August 18 during Contact Time in Room A214.  The meeting is intended for new and returning members, as well as students who just want to see what Speech & Debate is all about.
STUDENTS WHO STILL NEED TO PICK UP THEIR LAPTOP may do so at the iLearn Service Center, F218, during 4th, 5th, 6th, or 7th hours today.  (1st, 2nd, and 3rd hours, the iLearn Service Center will only be available for teacher/student laptop issues.)  To pick up your laptop, you must have payment ready and your parents must have completed e-registration.  Students whose parents have not completed e-registration will not be issued a laptop until e-registration is completed.
THE WORD OF THE WEEK, ADJACENT, is often followed by the preposition to.  For example, "Her office is adjacent to mine."  Adjacent comes from the Latin word adjacere, which means "to lie near".
Remember the Pirate Code.  Be Respectful.  Be Responsible.  Be Involved.
ATTENTION JUNIORS AND SENIORS:  National Honor Society applications are now available and are due by Monday, August 29.  See Mr. Brueckmann (D202) or Mrs. Schwendemann (E204) for more information.
COLLEGE & CAREER COUNSELING ANNOUNCEMENTS:
Schedule your appointment with Mrs. Luraschi now to discuss your plans for after high school.

 

See Ms. Patrick, in the Guidance Office, to schedule.
Register for the Sept. 10 ACT now.

 

See Mrs. L for a fee waiver if you receive free/reduced lunch.

 

Late fees will still apply.
JUNIORS AND SENIORS:

 

College Planning Night is on Tuesday, August 30 from 6:30-8:30pm. in the Auditorium at PHS.

 

Bring your parents and learn all about college admission.

 

College Speakers include:

 

University of Iowa, Truman State, Illinois College, Western Illinois University, and St. Charles Community College.
ALL STUDENT ATHLETES:

 

An NCAA and College Athletics Presentation will be held on Tuesday, September 6 from 7-8pm. in the Auditorium at PHS.

 

Bring your parents and learn about NCAA Division Athletics & requirements and how to prepare in high school from the SIUE Athletic Director and Compliance Officer.