Announcements January 24, 2013
Tim Vleisides
January 24, 2014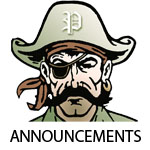 TODAY, JANUARY 24 IS THE LAST DAY TO APPLY FOR THE 2014-2015 PIRATE PRESS AND ECHO.
 Pick up an application outside Mr. Heyman's room, B110.  Consider this your first deadline.
JUNIORS AND SENIORS:  Are you interested in studying an engineering career in college?  Boeing is offering a field trip for 8 to 10 students.  Activities include: visit the Prologue Room; a flight simulator demonstration; autonomous urban vehicle demonstration; F-15 structures test; visit a wind tunnel and a lab.  See Mrs. Mathis immediately, room B209 in the mornings or H213 in the afternoon, for paperwork.
BSAAC MEMBERS:  Please see Mrs. Edwards today, January 24 in room H214.
ATTENTION TO NHS MEMBERS THAT SIGNED UP TO HELP WITH THE CHESS TOURNAMENT TOMORROW:  Please see the board outside of Ms. Shearrer's room for some important changes.  Also, please cross out your name if you are no longer available to help.
PAINTING FOR THE SOUND OF MUSIC will begin this Sunday (NOT Saturday as originally listed on your calendar).  See Ms. Corvera with questions.
THE ACT ENGLISH REVIEW SESSION will take place next Monday, January 27, in room B107.
KEY CLUB:  There will be a meeting after school on Monday, January 27 at 2:30 in Mrs. Gossett's room, H217!  If you cannot attend, make sure to let an officer know.
THERE WILL BE A BOYS SOCCER MEETING after school (2:20) on Tuesday, January 28 in the G wing.
AUDITIONS FOR ALEX WARREN'S ANIMATED SHORT FILM "THE PALADIN" have been extended to next week.  If you are interested in voicing one of the characters, please sign up outside G104 and pick up an information packet. Auditions will be held on Tuesday, January 28 and Wednesday, January 29 in Ms. Dornfeld's room, G104, beginning immediately after school on both days.  If you have any questions please see Ms. Dornfeld.
SENIOR SWEATPANTS are available for pickup in room H100.  If you ordered sweatpants, pick them up in H100.
WE'RE OFF TO A GREAT START WITH STUDENTS AND STAFF SIGNING UP TO FIGHT CHILDREN'S CANCERS THROUGH FUNDRAISING FOR THE ST. BALDRICKS FOUNDATION.  One small change is that hair donations will now go to Locks of Love and can be from 6 to 10 inches in length.  Students wishing to participate in the fundraiser should return a completed permission form to Mr. Fader in room G114.  Permission forms may be picked up outside the Activities Office or in Mr. Fader's room.  Please feel free to email Mr. Fader with any questions at 

[email protected]

.
UPCOMING EVENTS, SPONSORED BY STUCO, IN FEBRUARY:
Starting Feb. 3:  Will be able to purchase CARNATIONS FOR VALENTINE'S DAY
February 21:  The MY TIE DANCE (girls ask the guys) following Mr. PHS
February 22:  Come take the Plunge into Creve Coeur Lake in the ANNUAL POLAR PLUNGE
Stay tuned; more info to follow…
THE WORD OF THE WEEK IS JUXTAPOSE (jukta·poz).
Here are our Opposite Day Antonyms: disjoin, divide, separate
JUXTAPOSE is a verb and it means, "to place or deal with close together for contrasting effect."
USE YOUR WORDS OF THE WEEK!
Remember the Pirate Code.  Be Respectful.  Be Responsible.  Be Involved.  
PIRATE CODE INCENTIVES THRU TODAY, JANUARY 24:
Weekly Winner – $5 QT Gift Card
Attendance Games Winner – $10 STUCO Bucks
WINNERS TO BE ANNOUNCED TODAY!!!!
THE PT
TODAY'S ATHLETIC EVENTS:
Varsity Girls Swimming, home, against Kirkwood at 4:00.
Varsity Girls Basketball, home, against McCluer North at 7:00pm.
JV Girls Basketball, home, against McCluer North at 5:30.
Freshman Girls Basketball, home, against McCluer North at 4:00.
Varsity Boys Basketball, away, against McCluer North at 7:00.
JV Boys Basketball, away, against McCluer North at 5:30.
Freshman Boys Basketball, away, against McCluer North at 4:00.
SATURDAY'S ATHLETIC EVENTS:
Girls Swimming in the PHS Swim Invitational at PHS at 9:00am.