ANNOUNCEMENTS March 13
Tim Vleisides
March 13, 2014
TICKETS ARE STILL AVAILABLE 
for tonight's and Saturday night's performance of the
 40TH ANNUAL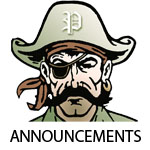 VARIETY SHOW.  
(Friday night's performance is sold out.)  The show begins at
7:00pm. in the High School Auditorium.  Tickets are on sale during all lunch sessions through tomorrow, March 14.  Tickets are $5 in advance and $6 at the door.  We hope to see you there!
STUDENTS, PLEASE NOTE:  All daily announcements are not read due to time limitations.  Please be sure to check the announcements on-line for complete information.  A copy is also posted in the window of the Front Office daily.
SUMMER SCHOOL REGISTRATION:  Please make sure you turn in your SIGNED Summer School Registration form that you received from your counselor during registration.  Classes are filling up fast and you will not be enrolled without your registration form turned in!!  If you did not get a form at registration, but think you may need to attend summer school, you may make an appointment to see your counselor in the Guidance Office.
STUCO OFFICER ELECTIONS are being held today, March 13 on the Moodle under Student Corner. REPRESENTATIVE ELECTIONS will be next Wednesday, March 19 and Thursday, March 20 on the Moodle.  A list will be posted on the STUCO windows.
MINORITY ACHIEVEMENT CLUB TALENT SHOW is Thursday, March 20 at 2:30 in the Auditorium.
All participates need to meet in room D205 immediately after school today through next Thursday, March 20.
NEED MORE FRIENDS, FOOD, AND FUN IN YOUR LIFE?  Come to the JSU meeting today, March 13 right after school at 1:15pm. in Mrs. Greenberg's room, D114.  Enjoy FREE FOOD and AWESOME CONVERSATION ON PURIM with some INSPIRATIONAL PEOPLE.  See you at JSU today.
THE COMMUNITY SERVICE CLUB will be recycling today, March 13 after school.
STAFF:  Please place your recycling containers in the hallway after school.
ROBOTICS CLUB:  Reminder: The end-of-season party is today, March 13 at 5:30pm.  Bring a snack to share.  We will also start planning for next year.  Questions?…See Mrs. Mathis.
COLLEGE REP. VISITS:
FONTBONNE UNIVERSITY will be here today, March 13 at 10:00am.
SLU will be here tomorrow, March 14 at 9:30am.
To sign up and get a pass, please see Mrs. Patrick in the Guidance Office.  See the posted list in the Guidance Office for a complete listing of upcoming college rep. visits.
PROM GUEST PERMISSION FORMS are available outside the Activities Office through Friday, April 11.
ALL ST. BALDRICK'S PARTICIPANTS AND T-SHIRT PURCHASERS are asked to join us for a group picture tomorrow morning, March 14 in the main gym at 7:00am.  Please wear your "Be Brave and Shave" shirts to the picture.
GIRLS SWIM & DIVE BANQUET is Wednesday, March 19 at 6pm in the Pattonville Heights Middle School cafeteria.
THE WORD OF THE WEEK IS PROXIMITY (prox-sim-it-ee).   Here are a few synonyms:  adjacency, vicinity, closeness.  Here are a few antonyms:  distance, remoteness.
Remember the Pirate Code.  Be Respectful.  Be Responsible.  Be Involved.  
JUNIORS & SENIORS INTERESTED IN A CAREER IN SPORTS MANAGEMENT are invited to a program offered by Maryville University on Saturday, March 29.  See Ms. Kampschroeder for details.
PIRATE CODE INCENTIVES MARCH 10-14:
Pirate Code Winners: $5 7 Eleven Gift Card (2 Winners)
Attendance Games Winner: $10 STUCO Bucks
KEY CLUB IS SPONSORING "VOTE FOR THE KING OR QUEEN STAFF MEMBER OF PHS."  Help us out by putting money in cans all this week during lunch.  All proceeds go to St. Baldricks!
THE PTO SCHOLARSHIP WAS ESTABLISHED TO HELP PATTONVILLE SENIORS
 with the financial burdens associated with their post-high school education.  Get your free application & details in the PHS College Center, located in the Student Commons, or online at the PTO website.  Completed applications should be returned to Julie Kampschroeder in the PHS College Center by April 1, 2014.  (
http://classrooms.psdr3.org/education/club/club.php?sectiondetailid=28002&
)