Kim Thompson leads high school jazz band clinic
Kim Thompson has had one fascinating career and has never forgotten where she first learned learned about music.
She graduated from Pattonville High School in 1999 and returned on April 6 to work with the jazz band under the direction of Mr. Denny McFarland.
"He took care of my career. Trust him and he will take care of yours," she told the group of students after the clinic.
After graduating high school in 1999, Thompson expanded her horizons and took a path different than most. She went to the Manhattan School of Music and received a Bachelor's Degree in Jazz Performance and Composition in 2003.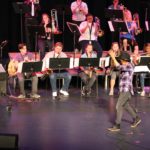 Thompson has been the touring drummer for pop star Beyonce, the drummer on the Late Night with Seth Meyers show, and has recorded a grammy-nominated album with jazz legend Mike Stern.
On April 6, jazz band students had the special opportunity to work with the professional drummer whose resume includes so much more.
Thompson listened to the jazz band perform and then gave the students tips and suggestions. She instructed the students to sit with a better posture, play their instruments with more enthusiasm, and to look out at the audience and recognize who they are playing for.
She danced around the stage when the band was performing, stopping them occasionally to make a comment or two, and had high energy the entire time.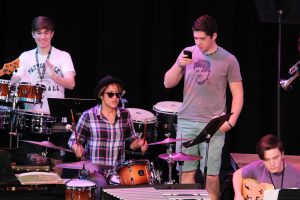 When drummer junior Sam Shull was tapped out by Thompson during a song, he was left speechless and actually took out his phone to record her playing.
She tried to give Shull back the seat, but the rest of the band wouldn't let her get up without performing a solo first.
"She has traveled the world playing music with famous people and she started in my position here almost 20 years ago," Shull said. "She has traveled the world playing music with famous people. Seeing her play right in front of me was crazy, and some of the stuff she did was just unbelievable."
After the class, students were able to come up and ask  Thompson questions. Junior Carter Kennedy asked her what it is like to travel the world and perform.
"It's a lot of work to be on the road. You have to make sure you take care of yourself because you are part of a team and you never know what will be asked of you," Thompson said. "Getting to see all the lights in the crowd makes it worth it though, you feel suspended in the universe."
After answering questions, she offered personal advice on being a music major and how to step out on your own.
She acknowledged the fact that a lot of people downplay music majors because it's hard to get a start or keep a career, but she wanted to ensure any music students that there is opportunity.
"There is billions of dollars in the music industry, don't be afraid to step out," Thompson said. "Just find people you vibe with and go for it. You are all intellectuals taking sound and mixing it with math and creating science."
Thompson is in town as a part of the Artist is Residency program through Jazz St. Louis. Four native St. Louis musicians are working with students throughout the St. Louis region, and then performing together. Thompson will be performing at Jazz at the Bistro while she's in town.  Check out one of her sets on April 7-8 with showtimes at 7:30 p.m. and 9:30 p.m.
[portfolio_slideshow id=22103]