Richardson signs to play volleyball at Culver-Stockton College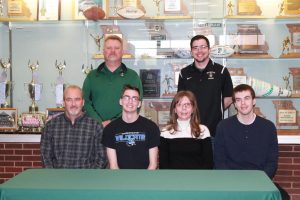 Senior Jake Richardson signed to play volleyball at Culver-Stockton College on April 5 during a signing event that also included volleyball player Auston Bonte (Lewis University) and basketball player Tyra Brown (Jefferson College).
"I chose Culver-Stockton because they have a good business program and I have a friend already on the volleyball team at Culver-Stockton, so I thought it would just be easier to mesh with the team."
Richardson had to choose from 10 colleges, narrowing it down to Culver-Stockton and Grand View.
Richardson currently plays middle on the Pirates varsity boys' volleyball team after starting off his career on the freshman team. Moving up to varsity was a big deal to Richardson at the end of his sophomore season.
"My freshman year of high school, I played really bad, but the summer going into my sophomore year, I practiced with my fellow teammate Austin Bonté, and over time, I improved."
Being on a college volleyball team will be a new world to Richardson, and he can't wait to get out there and start to play.
"It will be a different experience on a higher level, but it will be a good ole time."