Preview of the 2018-2019 girls' varsity basketball
Tonight, the Pattonville girls' varsity basketball team will play their first game of the 2018-2019 season. However, this is not their first test against competition. Last week, the girls played in their preseason jamboree. The experience was a showcase for the Pirates, who won all of their games.
Player Niya Danfort said, "It was great. We really played as a team."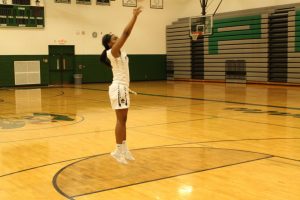 These results were shocking for many fans.
Considering the losses of last year's talent and adjustments in coaching, fans thought the team would need more time to regroup. However, this year's team has had years to develop.
Of the eight girls on the team, seven have two or more years of varsity experience. If you missed last year's season, you missed a spectacular season led by seniors Katie Basta, Makayla Jones-Scott, Essance Williams, and Tyra Brown.
Brown was a vital part of the team and a definite scorer. During her last season, Brown obtained her 1,000th point and was nominated for the McDonald's All American Game.
"Not only was Tyra a big scorer, she was a leader," head coach Doug McGhee said. "Now I got to find the next person who is going to step up and lead."
McGhee is looking for a competitor who will lead by example and be vocal. He's looking to his returners to naturally step up and take over. Some of the players he is looking to include 3-time varsity players Brooke Jenkins, Kendall Battle, and Helen Nelson.
Even Jaliya Smith, a junior, was named as someone who could step up and lead based on her past two years of experience.
Fans can see who will take the first shot at being a leader tonight at 6 p.m. in the Pattonville gymnasium when the Pirates tip-off against the McCluer Comets.