Trying to make the most out of her last year of high school
Hang on for a minute...we're trying to find some more stories you might like.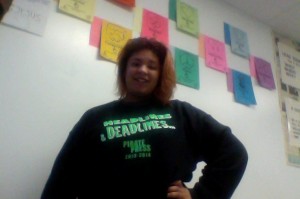 Starting this journey off in 2010 as a freshman and ending it in 2014 as a senior at Pattonville, Bionca Maldonado is a student that is very involved in many different aspects of the school and has taken charge and joined several different clubs.
"Because I'm a senior, I want to participate more in Spirit Week, school clubs, like DECA, and just going to games to support Pattonville High School," Maldonado said.
When asked, Maldonado said she doesn't know how she feels about leaving Pattonville because it hasn't actually come to mind yet.
"The fact that I'm leaving has not hit me yet," Maldonado said. "But I know that it'll be bittersweet because I'm excited to be going to college but I'll miss all the fun that accompanies high school."
Maldonado said she feels good about Pattonville because it has helped her in the long run.
Maldonado said, "In the long run I think that Pattoville has not only taught me school things but also more life skills."
After high school, Maldonado plans to move out and go to college to have a career in photojournalism.
High school has different impacts on different students but Maldonado said that she will never forget her four years of high school.