ANNOUNCEMENTS Jan. 13, 2014
PattonvilleTODAY staff
January 13, 2014
Hang on for a minute...we're trying to find some more stories you might like.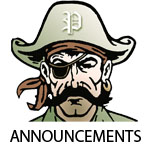 THE ENGLISH ACT REVIEW CLASS will start this evening, January 13, from 6-8pm in room B107.   For any questions regarding this prep class, contact Ms. Fields.
THE SHAKESPEARE COMPETITION (that offers students the opportunity to earn an all-expense paid trip to New York City) WILL be held today, January 13 right after school in Room D116.  Any student interested in participating should see Dr. Baldwin ASAP.
THE HALF MARATHON will start today, January 13.  All participants need to meet at 2:30 in the front lobby, dressed and ready to run!
THE PHS PTO WILL MEET tonight, January 13 at 6:30pm in Room B104.
PALS APPLICATIONS FOR THE 2014-2015 SCHOOL YEAR ARE NOW AVAILBLE!  Current Sophomores and Juniors may apply.  Applications are available outside rooms B102, E201, and in the Guidance Office.  Please return completed applications to Mrs. Kuhn's mailbox no later than Tuesday, January 21.
ATTENTION CHESS CLUB MEMBERS:  It is very important for you to attend Chess Club this Wednesday, January 15 in preparation for the Pattonville Chess Tournament on Saturday, January 25.  
BOYS VOLLEYBALL OPEN GYM starts Wednesday, January 15 at 6:00pm in the upper gym.
COMMUNITY SERVICE OPPORTUNITY:  Remington Traditional School is having their Annual Fun Fair on Saturday, January 25 from 10am to 2pm.  Stop by the CSO to sign up or for more information before January 16.
REMINDER:  THE PRICE OF A REPLACEMENT ID AND LANYARD IS NOW $4.00.  
THE WORD OF THE WEEK IS INFER (in·fer).
INFER is a verb and it means to reach a conclusion based on known facts.
Remember the Pirate Code.  Be Respectful.  Be Responsible.  Be Involved.
TODAY'S ATHLETIC EVENTS:
Varsity Girls Swimming, away, against Clayton HS At 4:00.
Freshman Boys Basketball, away, against McCluer at 4:00