The girl behind the camera lens
Hang on for a minute...we're trying to find some more stories you might like.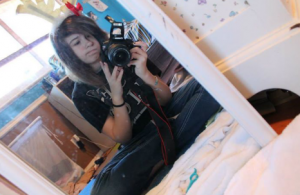 Riley O'Donnell is not just a regular freshman. After the school day hours, you can find her behind the flashing lights.
It would be easy to say photography is a huge part of O'Donnell's life. She has been taking pictures ever since she was 7 years old. Her passion for photography first came from taking pictures of her flowers.

"My favorite thing would probably be the poses people have to make in the pictures, and the qualities of the pictures, of course."
She has already been offered many opportunities in photography careers at such a young age.
Out of all the cameras in the world, O'Donnell insists that her favorite kinds are Canon cameras.
"I own four cameras, a small Canon, two big Canons and a Polaroid camera … but they don't make film for those anymore," O'Donnell said with a laugh. "My parents are basically feeding into my obsession."
Like every photographer, she has a few favorite shots that she loves.
"My favorite picture, besides the ones I took of my boyfriend and me, would probably be one I took of the sunset in Florida when I was 12 years old, I love it so much."
Aside from photography, O'Donnell also has a YouTube channel called "Rileyandlilyify" that she made a couple of years ago with her friend. Her channel consists of Vlogs, hair tutorials, rants and a lot of other cool things.