ANNOUNCEMENTS February 10, 2014
Hang on for a minute...we're trying to find some more stories you might like.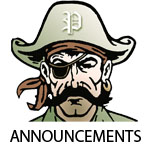 STUDENTS:  Are you interested in finding more out about STEM (Science, Technology, Engineering, andMath) careers?  A PHS graduate, that is currently working as an engineer at Boeing, will be here 1st and 2nd hours on Tuesday, February 18 discussing STEM careers.  There will also be a Saint Louis Community College representative discussing STEM classes and majors.  See Mrs. Mathis in B209 or H213 for a permission slip.
THERE WILL BE A KEY CLUB MEETING in room H211, Mrs. Shah's room, after school today, February 10.
WANT TO GIVE BACK TO THE COMMUNITY?  Key Club is sponsoring the Blood Drive this Friday, February 14.  You can sign up during all lunches today through Wednesday.  You must be 17 or older (or 16 with a parental consent form) in order to donate blood.  Please consider helping someone today!
ATTENTION STUDENTS:  As we move along into second semester, please keep track of your attendance.  Good attendance is a critical part of being successful in school and in life.  In addition, students who do not attend school at a 90% rate will not park on the lot, attend prom or other dances, and are at risk of not earning credit for the semester.
MYTIE DANCE TICKET SALES HAVE BEEN EXTENDED to today and tomorrow during all lunch sessions. Tickets are $5 for the dance or $8 if you also buy a Mr. PHS ticket.  All fines must be paid and you must have 90% attendance.
THERE WILL BE AN OPEN GYM FOR BOYS VOLLEYBALL tonight, February 10 and Wednesday night, February 12 from 6:00 – 7:30pm. in the upper gym.
STUDENT QUEST will meet today, February 10 after school in room E209.
T-SHIRTS TO BENEFIT THE ST. BALDRICK'S FOUNDATION are being sold through February 19.  Pattonville is trying to raise $20,000 to help fund vitally needed research for childhood cancers.  All t-shirt sales help us get closer to our goal.  Order forms are available in all offices and the STUCO store.  Return order forms with payment to Mrs. Kathriner in G108.  "BE BRAVE AND SHAVE PIRATE NATION".
COLLEGE REP. VISITS:  MARYVILLE UNIVERSITY will be here Wednesday, February 12 at 9:30am.
To sign up and get a pass, please see Mrs. Patrick in the Guidance Office.  See the posted list in the Guidance Office for a complete listing of upcoming college rep. visits.
PHYSICAL EXAMS are being offered on Thursday, February 13 from 4-6:30pm at Advanced Training and Rehab (12108 St. Charles Rock Road next to Deals).  Please sign up in the PHS Activities Office.  Cost is $25 cash or check payable to Advanced Training and Rehab.
THE NEW PIRATE PRESS WAS DISTRIBUTED TO 1ST HOURS LAST FRIDAY.  If you did not get one, check out PattonvilleTODAY.com to read a digital copy.
THIS YEAR'S POLAR PLUNGE IS ON SATURDAY, FEBRUARY 22!  Raise at least $75 for Special Olympics Missouri, and take a dip into the freezing Creve Coeur Lake!  You can sign up during lunch this week, or go to 
http://somo.kintera.org/plungemh/pattonvillehighschool
 to join the school's team.  Make a team with other participants by getting a team signup sheet in the STUCO Store.
COLLEGE BOUND SENIORS, who are still looking for a 4-year college to attend next year, are invited to the Infinite Scholars Program on Saturday, February 22 from 9am -12pm at UMSL.  Go to www.infinitescholar.org for specific details and what to bring with you.
COMMUNITY SERVICE OPPORTUNITY:  Rose Acres Carnival is looking for volunteers for Saturday, March 1 from 9:30am. – 4:30pm.    Many volunteers are needed to make this a successful event.  Sign up immediately in the CSO.
COMMUNITY SERVICE ANNOUNCEMENT:  Community Service Scholarship applications are now in the Community Service Office, E200.  Applications are available for SENIORS who have a minimum of 200 hours community service on record and who plan to attend a college, university or accredited technical school for the 2014-2015 school year.
WE ARE CURRENTLY LOOKING FOR STUDENTS TO TEACH SWIM LESSONS to our Pattonville middle and elementary students at the Pattonville Aquatic Complex.  Classes begin March 3 and are held on Mondays and Wednesdays 3:45-5:30pm.  If interested, please email Patty Gould at 

[email protected]
THE WORD OF THE WEEK IS PARADIGM (pear -ah – dime).  It is a noun that means an outstandingly clear or perfect example of something.
PIRATE CODE INCENTIVES FEBRUARY 10-14
Weekly Winner – $5 Steak n Shake
Attendance Games Winner – $10 STUCO Bucks
WINNERS TO BE ANNOUNCED ON FRIDAY!!!!
Remember the Pirate Code.  Be Respectful.  Be Responsible.  Be Involved.  
TODAY'S ATHLETIC EVENTS:
Varsity Girls Basketball, home, against Riverview at 6:00pm.
JV Girls Basketball, home, against Riverview at 4:30.
Freshman Girls Basketball, home, against Riverview at 4:00.
CANCELLED
Varsity Boys Basketball, away, against Trinity Catholic at 6:45pm.
JV Boys Basketball, away, against Trinity Catholic at 5:15.
Freshman Boys Basketball, away, against Trinity Catholic at 4:00.