ANNOUNCEMENTS February 21, 2014
Hang on for a minute...we're trying to find some more stories you might like.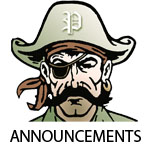 DO YOU WANT TO SEE WHO WILL BE CROWNED MR. PHS FOR 2014? Join us tonight, February 21 in the auditorium at 6:00pm for this year's exciting competition.  Tickets are $5.00 at lunch or at the door.
CONGRATULATIONS TO OUR TWO ATTENDANCE GAMES, BASKETBALL FREE THROW WINNERS. 
Camille Hernandez and Whitman Kibble.These two individuals will receive a $50 gift of their choosing. 
CONTINUE TO MAKE DAILY SCHOOL ATTENDANCE A PRIORITY and you could be our next Attendance Games winner.  "May the odds forever be in your favor."
COLLEGE REP. VISITS:  UNIVERSITY OF CENTRAL MISSOURI will be here Tuesday, February 25 at 10:00am. 
To sign up and get a pass, please see Mrs. Patrick in the Guidance Office.  See the posted list in the Guidance Office for a complete listing of upcoming college rep. visits.
COMMUNITY SERVICE ANNOUNCEMENT:  Maryland Heights Safety Town applications for Summer 2014 are available in the Community Service Office.
COMMUNITY SERVICE OPPORTUNITY:  6th Annual Trash Bash, Saturday, March 15 from 8:30am – Noon.  One of the sites of clean-up this year will be the Bridgeton area.  Gathering place will be at the Bridgeton Municipal Complex (BMAC), 12312 Ferguson Lane, where assignments will be given.  Lunch and celebration will follow clean-up.  Come to the Community Service Office for more information.
ATTENTION STUDENTS:  If you are not in a winter sport, participating in a supervised activity, or plan to attend tutoring you should go home immediately after school is dismissed.  Students are not allowed to roam the halls, hang out in the commons or front lobby, or use the stadium or other athletic fields without supervision. 
Disciplinary consequences, including the loss of future after school privileges, will be assigned to individuals who do not comply with the rules.
WATER POLO TRYOUTS will be on Monday, February 24 after school in the pool.
STUDENTS PLANNING ON TAKING AP EXAMS IN MAY need to register online.  The registration site iswww.TotalRegistration.net/AP/262575  (a link to this site can be found on the high school page).
THE ASVAB TEST will be given on Tuesday, March 11 at PHS.  Juniors & Seniors interested in the military should sign up in the CSO.
THE WORD OF THE WEEK IS PASSIVE (pas-sive) which means – Accepting or allowing what happens or what others do, without active response or resistance.  The opposite day antonyms include – active, assertive, and recalcitrant.  Use your Words of the Week!
Remember the Pirate Code.  Be Respectful.  Be Responsible.  Be Involved.  
CONGRATULATIONS TO THE VARSITY GIRLS BASKETBALL TEAM for winning the Suburban North Conference with a win over McCluer last night!
THE PTO SCHOLARSHIP WAS ESTABLISHED TO HELP PATTONVILLE SENIORS with the financial burdens associated with their post-high school education.  Get your free application & details in the PHS College Center, located in the Student Commons, or online at the PTO website.  The completed application should be returned to Julie Kampschroeder in the PHS College Center by April 1, 2014.  (http://classrooms.psdr3.org/education/club/club.php?sectiondetailid=28002&)