ANNOUNCEMENTS April 9, 2014
Hang on for a minute...we're trying to find some more stories you might like.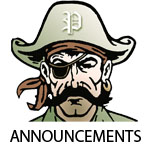 SENIORS 
(and everyone else who would like to attend)
are invited to the 
"How to Read Your Financial Aid Package"
 presentation this evening, April 9, at 7:00pm. in the Auditorium.
PROM COURT MEMBERS:  See Mrs. Edwards, room H214, by the end of the day today, April 9.
"ELIMINATING THE R-WORD" T-SHIRTS are $7 in the STUCO store.
THE COMMUNITY SERVICE CLUB will be recycling tomorrow, April 10 after school.
FREE FOOD AND AWESOME CONVERSATION tomorrow, April 10.  Come to the JSU meeting tomorrow right after school at 1:15pm. in Mrs. Greenberg's room D114 for FREE FOOD and AWESOME CONVERSATION.  Check out JSU tomorrow!
APPLICATIONS FOR RHO KAPPA, the Social Studies Honor Society, are due Friday, April 11 to Mr. Schamber in D213.
PURCHASE YOUR PROM TICKETS THIS WEEK (APRIL 7-11) FOR $55.  Tickets are being sold during lunch.  You must have your school ID and all fines paid to purchase.  You must have 90% attendance to attend.  Ticket prices increase to $65 next week, April 14-17.
PROM GUEST PERMISSION FORMS are available outside the Activities Office through this Friday, April 11.
HOURS TOWARD THE COMMUNITY SERVICE HONOR CORD are due Friday, April 11.   Hours will not be accepted after this date to count toward the Honor Cord.
THE WORD OF THE WEEK IS SUBSEQUENT (sub·se·quent).  Here are ways subsequent is used:
If a student fails an exam, s/he will study harder for subsequent ones.
A storm at rush hour always causes accidents then subsequent traffic jams.
My numerous tardies to class subsequent-ly resulted in assigned after-school detentions.
PIRATE CODE INCENTIVES APRIL 7-APRIL 11
Pirate Code Winner: $10 QT Gift Card (Winner to be announced on Friday)
Attendance Games Winner: $10 STUCO Bucks
Remember the Pirate Code.  Be Respectful.  Be Responsible.  Be Involved.  
PATTONVILLE YOUTH LEADERSHIP will meet today and tomorrow immediately after school in room D205
ARE YOU ALL SET FOR PROM AND GRADUATION?  Have you checked to see if you owe fines?  Remember, fines must be paid before you are allowed to purchase Prom tickets, walk at Graduation or receive your diploma.  Please take a minute to check your fine balance in Powerschool.  The "Balance"link is located on the left-hand side of the Powerschool login screen (this balance does not include lunch balances).  Please see Mrs. Mason, in the Finance Office, if you have any questions.
GSA IS PARTICIPATING IN DAY OF SILENCE this Friday, April 11.  What can you do to end the silence?  Stop by the GSA table this week during lunch to find out more, and sign up to participate.
GSA IS ALSO SPONSORING A NONPERISHABLE FOODS/CAN DRIVE now through April 17.  Donate nonperishable foods to your Pirate Connections Class.  The PC class with the largest donation wins a donut party May 8.
PTO GRANTS ARE AVAILABLE for students attending a camp or program this summer.  The program or camp must relate to Academics, Fine Arts or Leadership areas that directly enrich school experience and cannot violate MSHSAA rules.  Sports programs are excluded (including Drill Team and Cheerleading). College credit courses are also excluded. Also, their parent must have been a PTO member, since December 2013.  The application is due by April 30, and can be found online (under PTO) or in the Activities Office.
COLLEGE BOUND JUNIORS:  West Point Military Academy will hold an information session Tuesday, April 15 at 7 pm at the Algonquin Golf Club in Kirkwood.  For more details, read the post on the door of the College Center.
TODAY'S ATHLETIC EVENTS:
Varsity Boys & Girls Track, away, vs. Maplewood Richmond Heights at 4:00.
Varsity Boys Golf vs. Hazelwood Central at Old Florissant Golf Course at 3:00.
Varsity/JV/Freshman Boys Volleyball, away, vs. Parkway Central at 4:00.
Varsity Girls Soccer, away, vs. Parkway Central at 6:00.
JV Girls Soccer, home, vs. Parkway Central at 4:00.
Varsity Baseball, home, vs. Hazelwood Central at 4:00.
JV Baseball, away, vs. Hazelwood Central at 4:00.
GAME RESULTS FOR APRIL 8
Varsity Boys Golf defeated McCluer 195 to 198.  Grant Cushman and David Treat were low medalists with a score of 47 each.
Varsity Boys Volleyball lost to Parkway North 27-29, 20-25