ANNOUNCEMENTS April 30, 2014
PattonvilleTODAY staff
April 30, 2014
Hang on for a minute...we're trying to find some more stories you might like.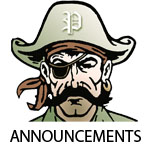 ATTENTION ALL ATTENDANCE GAMES WINNERS!  Next Monday, May 5, will be the kick on goal at the 4:30 PHS Varsity girls' soccer game.  All Attendance Games winners are eligible to kick on goal for your choice of a $50 gift card.  You must show up at the game on Monday to get a chance to kick.  GOOD LUCK!
SENIORS:  All Community Service hours for Graduation are due to the CSO by this Friday, May 2.
THERE WILL BE NO CHESS CLUB MEETING today, April 30 after school.
BSAAC MEMBERS:  Please note the BSAAC Picnic is today, April 30 at 11:00am.
ART CLUB AND GALLERY G LEADERSHIP will meet today, April 30 after school in G108.
PTO GRANT APPLICATIONS are due today, April 30, to the Activities Office.
THE SENIOR ART SHOW is currently on view and is available to the public every day after school in the Auditorium Lobby from 2:15-3:30.  Please, come out and see our talented artists!  The show runs thru Friday, May 16.
ATTENTION:  THE FOOTBALL FAMILY NIGHT MEETING will be held tonight, April 30 at 6:30pm in the high school cafeteria for all students interested in playing high school football next school year.
ACTIVITY BUSES WILL NOT RUN on Friday, May 2.
COMMUNITY SERVICE OPPORTUNITY:  Volunteers are needed this Saturday, May 3 from 9am-noon at the PHS pool for the Splash & Dash.  Come to the CSO if you can help.
FEA MEMBERS:  Please turn in your fundraiser forms to Mrs. Weingart, in room E210, by Monday, May 5.  We will have an FEA meeting on Thursday, May 8 during Contact Time, however, your fundraiser forms need to be turned in by Monday, May 5.
THIS WEEK'S WORD OF THE WEEK IS SUSTAINABLE (suh-STAY-nuh-buhl).  Here are some ways this word can be used:
The trial judge ruled that the defense's objection was 

sustainable

.
The marathon runner worried that her current pace would not be 

sustainable

 for the remaining 9 miles of the race.
Installing bamboo floors in a house instead of using traditional woods is one example of ecologically

sustainable

 building practices.

Remember the Pirate Code.  Be Respectful.  Be Responsible.  Be Involved.  
PIRATE CODE INCENTIVES APRIL 28-MAY 2:
Pirate Code Winner-$10 Chick-fil-A Gift Card
Attendance Games Winner-$10 STUCO Bucks
THE MATH HELP CENTER is closed during testing this week and next week during the school day.  It is open before school and after school.
STUDENTS IN 10TH – 12TH GRADES are eligible to take an online Personal Finance test on May 20.  Students, who pass the test with a 90% or higher, will not need to take the class.  Please bring a check for $20 to Mrs. Leonard, in the Guidance Office, by May 11 if you are interested.  
TODAY'S ATHLETIC EVENTS:
Varsity Boys Golf in the Suburban North Conference Tournament at Florissant Golf Course at 8:00am.
JV Boys Golf vs. Fox at Pomme Creek Golf Course at 3:30.
Varsity Boys Tennis, home, vs. Riverview at 4:00.
Varsity Baseball, away, vs. Hazelwood West at 4:00.
JV Baseball, home, vs. Hazelwood West at 4:00.
Freshman Baseball, away, vs. Hazelwood West at 4:00.
Varsity Girls Soccer, home, vs. Marquette at 6:30.
JV Girls Soccer, home, vs. Marquette at 4:15.
Freshman Girls Soccer vs. Ritenour at Ritenour's North Athletic Campus at 4:00.
Varsity/JV/Freshman Boys Volleyball, away, vs. Francis Howell North at 5:00.
Girls Lacrosse vs. St. Dominic at Hazelwood East at 5:30.