ANNOUNCEMENTS April 28, 2014
PattonvilleTODAY staff
April 28, 2014
Hang on for a minute...we're trying to find some more stories you might like.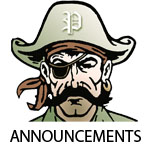 STUDENTS IN 10TH – 12TH GRADES are eligible to take an online Personal Finance test on May 20.  Students, who pass the test with a 90% or higher, will not need to take the class.  Please bring a check for $20 to Mrs. Leonard, in the Guidance Office, by May 11 if you are interested.  
THE MATH HELP CENTER will be closed during testing this week and next week during the school day.  It will be open before school and after school.
STUDENT QUEST will meet today, April 28 after school in room E209.
KEY CLUB: There will be a meeting after school today, April 28 in H217.
JV BOYS GOLF PRACTICE has been cancelled for today, April 28.  Varsity Boys Golf will practice.
THE INTERNATIONAL CLUB will meet during Contact time tomorrow, April 29 in Ms. Fields' room B107.
ALL STUDENTS INVOLVED IN THE MAKING OF "THE PALLADIN" ANIMATED MOVIE:  Please come to room G104 immediately after school tomorrow, April 29 for a brief but important informational meeting.
COLLEGE REP. VISIT:  MISSISSIPPI STATE will be here tomorrow, April 29 at 10:00am.  To sign up and get a pass, please see Mrs. Patrick in the Guidance Office.  
BSAAC MEMBERS:  Please note the BSAAC Picnic is this Wednesday, April 30 at 11:00am.  Please see Mrs. Edwards, room H214, if you have not received a field trip form.
SENIORS:  All Community Service hours for Graduation are due to the CSO by this Friday, May 2.
SENIORS:  If you are joining the military after Graduation, please see Mrs. Krohn in the CSO.
THIS WEEK'S WORD OF THE WEEK IS SUSTAINABLE (suh-STAY-nuh-buhl).  

Sustainable

 is an adjective meaning able to last or continue for a long time without being used up or destroyed.
PIRATE CODE INCENTIVES APRIL 28-MAY 2:
Pirate Code Winner-$10 Chick-fil-A Gift Card
Attendance Games Winner-$10 STUCO Bucks
Remember the Pirate Code.  Be Respectful.  Be Responsible.  Be Involved.  
2014-15 JUNIOR CLASS OFFICERS:  President-Natalie Siegel; Vice-President-Nathalie Solorio; Secretary-Leeann Graff; Treasurer-Kristin Barringhaus.
ATTENTION:  THE FOOTBALL FAMILY NIGHT MEETING will be held on Wednesday, April 30 at 6:30pm in the high school cafeteria for all students interested in playing high school football next school year.
THE SENIOR ART SHOW is currently on view and is available to the public every day after school in the Auditorium Lobby from 2:15-3:30.  Please, come out and see our talented artists!  The show runs thru Friday, May 16.
COMMUNITY SERVICE OPPORTUNITIES:
ATTENTION MARYLAND HEIGHTS RESIDENTS AND/OR FRIENDS:  The 2nd Annual Cleanup will take place Saturday, May 3, from 8:30am – noon at McKelvey Woods Park.  Volunteers are needed. Stop by the CSO for more information.
THE 35TH ANNUAL ST. LOUIS SENIOR OLYMPICS, May 22 – May 27, needs many volunteers.  The event is held at the Jewish Community Center.  Stop by the CSO for an application.  Applications are due by May 12.

TODAY'S ATHLETIC EVENTS:
JV Boys Golf in the Kirkwood JV Tourney at Aberdeen at 8:00am.
Varsity/JV Boys Volleyball, away, vs. Ritenour at 4:00.
Freshman Boys Volleyball, away, vs. Parkway West at 4:00.
Varsity Boys Tennis, home, vs. Hazelwood Central at 4:00.
Freshman Baseball, home, vs. Parkway North at 4:00.
Varsity Girls Soccer, away, vs. Parkway North at 4:45.
JV Girls Soccer, away, vs. Ft. Zumwalt South at 5:00.
Freshman Girls Soccer, home, vs. Francis Howell North at 4:15.