Mrs. Hahn retires from teaching after 27 years
Hang on for a minute...we're trying to find some more stories you might like.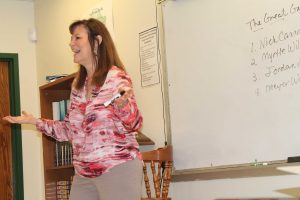 The Class of 2014 isn't the only thing that Pattonville High School will be saying good-bye to this school year – there are 10 retiring teachers that have fulfilled their duties in their specific area and have decided to start a new chapter in their life.
Mrs. Vann Hahn will be retiring this year along with her sister, Ms. Leslie Anderson, and her husband Mr. Mark Hahn.
Mrs. Hahn has worked at Pattonville High School for 27 years and she grew up in the area and went through the elementary school, middle school, and finally graduated from Pattonville in 1977.
"I have always liked to read so teaching English just made sense to me."
She said the reason she chose the high school level is because she liked the idea of having a new class every year and having the summers off wasn't a bad idea at all,
Mrs. Hahn's fondest memory of her time at Pattonville is when her two children attended the high school. She remembers her entire family driving to school every day in four separate cars and now looking back, she sees how ridiculous it was. But she greatly enjoyed her time with her kids being in the same building.
Now that she has a little time on her hands, she has a few plans.
"I will probably do a little substitute teaching, I don't want to be completely done with teaching," said Mrs. Hahn.
The Hahns don't plan on doing too much vacationing due to the fact that they are still putting two children through college.
Mrs. Hahn has some advice for new incoming teachers: "Be prepared for a lot of grading. Don't procrastinate. Have a good sense of humor. Have fun with it because 99 percent of the children at Pattonville are really good kids. Enjoy them."