5 Questions with Emma Stover
Hang on for a minute...we're trying to find some more stories you might like.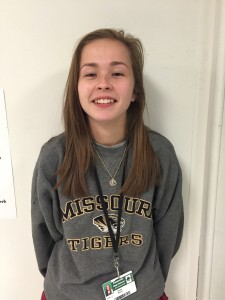 Many people enjoy traveling and visiting new places around the world during their time off of school. Emma Stover (12) is one of the very many with endless places around the globe that she wants to experience in the future.
Q: If you could visit anywhere in the world, where would you go and why?
A: I would love to visit Paris, France, because I want to get to experience the way they live in another country. I've also heard from other people that it is gorgeous and I would love to find out for myself one day.
Q: Where is the farthest you've every been from home?
A: The farthest I've ever been was to California. My aunt lives in San Francisco and I went to go see her.
Q: Do you have any vacation plans for Spring Break this year?
A: I am going to Destin, Florida, with my friends. I can't wait to go lay on the beach and eat seafood because it is actually good there.
Q: If you could move to any location, where would you move?
A: I would love to move to Denver, Colorado, because the people there are all so nice and the mountains are beautiful.
Q: Who would you choose as your travel partner and why?
A: I would definitely choose my best friend because I know she would be down to travel anywhere with me.