Two seniors will study American Sign Language next year in college
Hang on for a minute...we're trying to find some more stories you might like.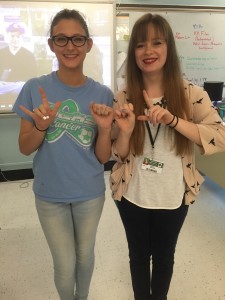 Seniors Tori Stickman and Shannon Bamvakais plan to attend William Woods University in the fall. As an added bonus to the college experience, they plan to be roommates.
"We didn't really want to be with strangers and we're close enough as friends to be roommates," Stickman said.
Both Stickman and Bamvakais will be active in the American Sign Language program in college after finding a passion for it in eighth grade. William Woods University has the 3rd best ASL program in the United States.
"The language is so interesting and kids learn ASL much faster than spoken languages," Bamvakais said. "There's always job security because there aren't enough ASL interpreters in the country."
As well as the ASL interpreters being in high demand as a career, it's an uncommon language for people to know. Stickman wants to be able to communicate with people in ways that others may not be able to.
"The language is amazing," Stickman said. "You can communicate with someone from across the room without even speaking. Since not many people know sign language, those who are hearing impaired can't communicate with those who aren't."
At a previous job, Stickman had to use her knowledge of sign language to take the orders of a deaf couple.
"I knew generally what they wanted just because of what I knew already about sign language, but the person interpreting for them told me, also."
In a similar situation, Bamvakais became an unofficial interpreter for a family friend at a funeral. Having not taken any classes, her signing was rough, but they were able to understand each other well enough.
"I started communicating with him and interpreting for him while there," Bamvakais said. "He said that I will be a great interpreter if I'm already doing that well without classes."
Both seniors hope to further their career in ASL. Bamvakais wants to work as an interpreter in a hospital or government setting, as well as concerts and plays. Stickman wants to be a teacher, but mix it with interpreting to teach deaf children.