Meet New Math Teacher: Ms. Samantha Markowski
Hang on for a minute...we're trying to find some more stories you might like.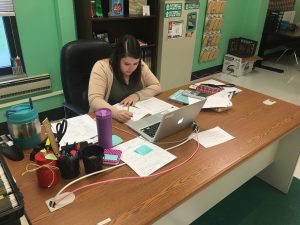 After graduating from Maryville University, Ms. Samantha Markowski began looking for a full-time teaching position.
When it came to time to pick which school to teach at, it was mainly between two schools: her old high school (Parkway South) or Pattonville. When it came down to making a decision, she chose to go with something new and different.
"I'm blown away by Pattonville," Markowski said. "Everybody here is very welcoming and helpful."
She has had a love for math all of her life.
"I attended Mizzou for 2 years and then transferred to Maryville with the idea of becoming a high school math teacher the entire time."
Even in high school, she did a cadet teaching program and volunteered in her old high school during college so she is truly practiced in teaching.
"Math was just what I was always interested in."
Outside of her life at Pattonville, she worked for her dad during the summer with construction and home improvement. But inside the walls of the high school, she wanted to become part of the community not just by showing up to her job every day and then leaving, so on top of her being a math teacher, she also coaches cheer.
"I really wanted to become a part of Pattonville."