Pirates travel to Kirkwood for first football game
PattonvilleTODAY staff
August 24, 2012
Hang on for a minute...we're trying to find some more stories you might like.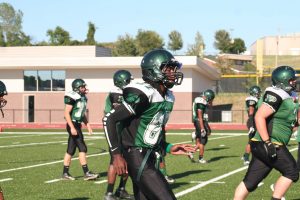 The Pirates are taking on the Class 5 top-ranked Kirkwood Pioneers in the first football game of the 2012 season tonight, Aug. 24. The kickoff is at 7 p.m. at Kirkwood High School.
Kirkwood is last year's state runner-up after losing at the Edward Jones Dome in 2011. The Pioneers open the season as the top-ranked team in Class 5 football after finishing last season with a 12-1 record.
It doesn't get any easier next week (Aug. 31) for the Pirates when they host Class 6 5th ranked Lafayette in the opener of their new stadium.
Going to the game tonight? Here's how to get there from Pattonville High School:
1. Start out going east on Creve Coeur Mill Rd toward Fleetwood Pl.
2. Turn right onto McKelvey Rd.
3. Turn slight right onto Ameling Rd.
4. Take the 2nd left onto Bennington Pl.
5. Bennington Pl becomes McKelvey Rd.
6. Turn left onto Dorsett Rd.
7. Merge onto I-270 S.
8. Take the Dougherty Ferry Rd exit, EXIT 8.
9. Turn left onto Dougherty Ferry Rd.
10.Turn right onto W Essex Ave.
11. 801 W ESSEX AVE is on the left.