Custodian stands out
Hang on for a minute...we're trying to find some more stories you might like.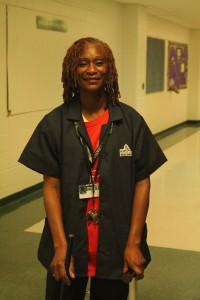 Walking into school on a Monday morning is always tiring, but students perk up a little bit when they hear a voice say, "Happy Monday, everybody!"
Debbie Forbes, a daytime custodian at Pattonville High School, loves interacting with the kids. She said she wakes up every morning excited about coming to work and interacting with them.
Not only is she a custodian but she works part-time with autistic adults and is in charge of the daycare at her church. She has spent five years with abused and neglected kids and two years at a special school district.
Before joining the Pattonville staff, Forbes spent 20 years in the military. Forbes was an accountant in the Coast Guard until she retired and took on her other jobs.
Not only has Forbes worked well the students, she said, "The other custodians and I have become a family. We all work together as team."