All Missouri high school juniors will take the ACT on April 19
PattonvilleTODAY staff
April 11, 2016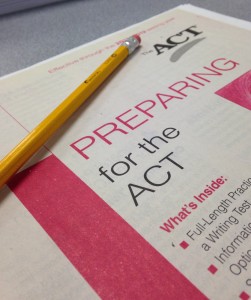 There will be statewide ACT Testing for all 11th grade students on April 19. The state of Missouri will be giving ever high school junior the ACT at no charge for the second straight year.
Some students fear this test, but have been working very hard to get the best score that they can get because it can be an opportunity for many students to receive scholarship money and get accepted into college.
"The ACT opened up a great opportunity for me to be attending Columbia University in the fall on a full-ride scholarship," senior Azim Djuraev said.
Taking the ACT can be a very scary idea for some students, and throw off their concentration.
"The smartest thing to do before taking the ACT is to take some prep classes and practice test-taking skills," Djuraev said. "Just go into the test feeling confident and get plenty of sleep the night before."
Pattonville offers ACT Prep as a class and provides tutoring sessions in the evenings. Junior Jalin Spears said she is better prepared because of what she is learning.
"I am in the ACT Prep class right now and I'm getting really good information on how to get a good score," Spears said.
All juniors will be taking the ACT on Tuesday, April 19.