STUCO prepares for first home football game
Alyssa Potter
August 28, 2013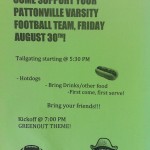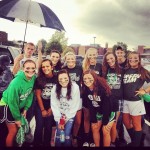 Get ready Pirates, the varsity football team has their home opener this Friday at 7:00 pm against Kirkwood. Though this will already be an exciting time, STUCO plans to make it even more thrilling by having a tailgating party in the high school parking lot prior to the game at 5:30 pm. Don't forget to kick off this football season dressed in all green to support your Pirate football players with a green-out.
Senior STUCO member, Hareen Patel, said tailgating before the game is not a new idea. There were a couple that occurred last season and they were fairly successful, but not many people who knew about them. This year, STUCO is effectively spreading the word. "Tailgating is a fun idea and it brings students together." Patel said.
There is no cost of the tailgating party. STUCO only asks that students bring their own drinks, but hot dogs and snacks are provided on a first come, first serve basis. "Get there early, ready to play games and hang out with friends, and get pumped for the first home game!" Patel said.
STUCO hopes to see as many students as possible for a fun and exciting pre-game celebration and then for a rowdy and action-packed game!