Final CTE Speaker Series of the year will be held May 8
PattonvilleTODAY staff
May 6, 2014
Hang on for a minute...we're trying to find some more stories you might like.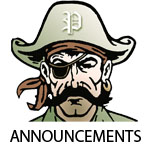 Two representatives from Maryville University will present on Thursday, May 8, at the final CTE Speaker Series of the year.
The speakers are Jason Williams, who is the Director of the Rawlings Sport Business Management Program at Maryville, as well as Marcus Manning, Maryville's Director of Athletics.
Because of EOC scheduling, this event will start at 12:44 (Contact Time) in B104. 
According to Principal Jon Fitzgerald in an email to staff about the event, this is good for any students who have an interest in sports marketing, business, and aspiring college athletes. 
Business teacher Kelly Thames arranged the speakers.