Student Council plans #phsSPIRIT Week, makes changes to parade route
Hang on for a minute...we're trying to find some more stories you might like.
With Homecoming less than a month away, the football team is focused on playing Rockwood Summit on Friday, Sept. 23, but Student Council is beginning to make plans for the parade and Spirit Week.
Homecoming Spirit Days, Sept. 19-23:

Monday: PJ Day
Tuesday: Holiday Day
Wednesday: Dress Like A Career
Thursday: Dress Like Your Frontier

Seniors: Ocean
Juniors: Jungle
Sophomores: Space
Freshmen: Arctic
Teachers: Old West

Friday: Class Color Day

Seniors: Green
Juniors: Red
Sophomores: Blue
Freshmen: Yellow
The parade will be held on Saturday, Sept. 24, and will be using a different route this year. Hoping to avoid a hill and to allow for more line-up room, it will be staged at BJC at the intersection of McKelvey Road and Old St. Charles Rock Road instead of at Bridgeway Church Assembly of God.
The parade start location changed for numerous reasons, such as the safety of the participants and the mere size of the parade line-up.
"It was hard for the elementary kids, and all of the participants at that, to get up the big hill safely," student council sponsor Heather Lopez-Johnston said.
She said that over the years, more and more groups, clubs and activities have joined and there is simply not enough room to start at the church anymore.
The route will precede right on McKelvey and head west, ending at the high school.
Grades 9-12 will each have their own class float that corresponds with their part of the Homecoming theme.
This year's theme is "Pattonville's Four Frontiers" and Seniors have selected to represent the Ocean. The Juniors have been assigned the Jungle, Sophomores will be appointed Space, and Freshman have given the Arctic. Teachers expressed interest in having their own frontier, so Student Council gave the staff the theme of the Old West.
Clubs, sports team and community groups interested in participating in the 1.1 mile parade should contact Lopez-Johnston at [email protected] or by phone, (314) 213-8051 ext. 8712.
The Homecoming dance will be held on Saturday night and ticket information will be made available at a later date.
About the Writer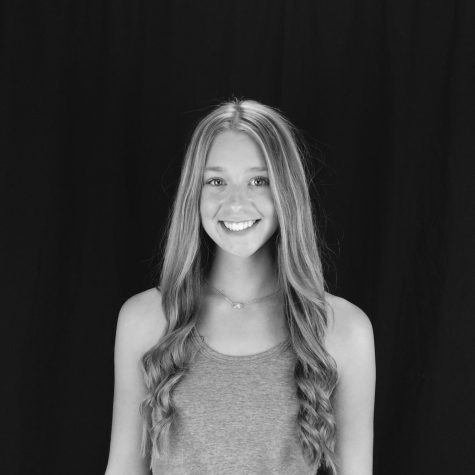 Brittany Bell, Editor-in-chief
Brittany Bell is the editor-in-chief of the Pirate Press and is a captain of the Varsity Drill Team.