Varsity Drill Team to host annual sports apparel sale
Hang on for a minute...we're trying to find some more stories you might like.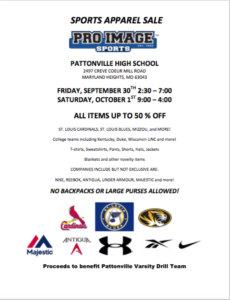 The Sports Apparel Sale, also dubbed the "Nike Sale", is back this year for the Varsity Drill Team and will be held Friday, Sept. 30 from 2:30-7 p.m. and Saturday, Oct. 1, from 9 a.m. to 4 p.m. at the high school.
Varsity Drill Team member Erin Bailey said this sale is the biggest fundraiser that the team has all year.
"All proceeds are spread throughout the Varsity Drill Team fund and can cover various things from new uniforms to paying for Nationals."
The Varsity Drill team plans to travel to Orlando for Nationals again this year.
"My favorite items to get from the sale are collegiate items," Bailey said. "All items are up to 50 percent off so it's a great time to stock up."
Items at the sale include items from the St. Louis Cardinals, St. Louis Blues, Mizzou and more.
Shoppers will be able to find T-shirts, sweatshirts, pants, shorts, hats, and jackets. Blankets and other novelty items will also be on sale.
Companies include, but not exclusive, are Nike, Reebok, Antigua, Under Armour, Majestic, and more.