Newspaper, yearbook staff members 'Escape' the room
Hang on for a minute...we're trying to find some more stories you might like.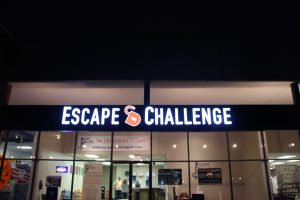 It was not a modified lockdown drill at the high school, but journalism students were trapped in a room and had to find a way to get out in under 60 minutes.
On Oct. 26, newspaper and yearbook staff members went to Escape Challenge St. Louis located at 11978 Dorsett Road to try out one of the newest entertainment venues in the Maryland Heights area.
"I was driving down Dorsett and I saw that an Escape Challenge was opening up," journalism teacher Mr. Brian Heyman said. "I had been to an escape room in St. Charles and thought that it was a really cool thing. I contacted them to see if they wanted to partner with our journalism department and advertise in the newspaper and we worked out an opportunity for students to visit and try it out."
At Escape Challenge St. Louis, they offer escape rooms, mini games, and virtual reality.
The first activity students experienced was the escape challenge.
Each team that enters is locked in a room and must find hidden objects, clues and codes to escape it. The team has one hour to escape the room before they lose.
Having more people attending the event, the newspaper staff went into the room first. They were able to exit with about 8 minutes to spare.
"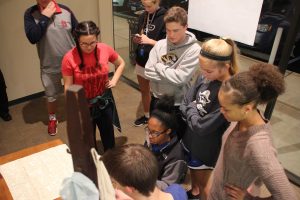 We were bonding real quick," newspaper staff member Emily Tobar said. "We were on it. We had our designated places, we tore up the room and we figured things out. We all knew what was going on. It worked out very nicely."
Heyman and three yearbook staff members failed to escape the room, finishing about 3 minutes after the clock expired.
"We definitely had a disadvantage because of the number of people we had but we worked together and figured out a lot of hard tasks," Heyman said. "We actually got caught up on some of the really simple things."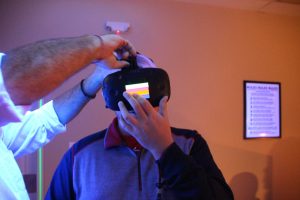 The second activity students participated in was testing out the MATRIX Virtual Reality (VR) rig.
A person will wear a headset and hold two controllers. The person is then immersed into a state-of-the-art 3D virtual reality universe where they can walk around the room while other people in the room get the chance to watch what they see on TV screens hanging on the wall.
"I was expecting to be put in another world and that's kinda what it was," yearbook staff member Josh White said. "When I started, I went straight to outer space. It was pretty interesting to get a new look on life because you're just not used to being in outer space."
To book a room, visit EscapeChallengeSTL.com or call (314) 736-4757