Trump is voted President, Pattonville participates in mock election
Hang on for a minute...we're trying to find some more stories you might like.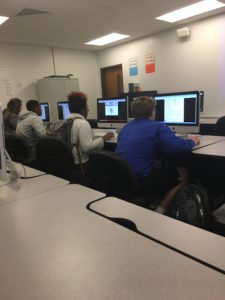 Donald Trump was elected the 45th president of the United States on Tuesday.
But on Monday, students at Pattonville High School were learning the importance of voting. During the student's History or Government class, high schoolers were led down to a classroom and lined up outside to get their names checked off prior to voting.
When this was done the student would be lead to a computer where it had 12 questions that would be similar to the questions asked on the real ballot. For example, things voted on were Missouri Constitutional Amendments, U.S. senators, State Treasurer, and of course, President of the United States.
"This mock election made me realize that I need to really research what I'm going to be voting for, especially the amendments, otherwise I might vote on something wrong," senior Ashli Bruton said.
Pattonville High School wasn't the only school trying to raise education about voting for its students. Students at Holman Middle School recently held a mock debate.
Four eighth graders were chosen to represent the candidates, and then another eighth grader was chosen to be the moderator. Each candidate had to research and make a speech on his or her beliefs to present to different history classes that came down during the day.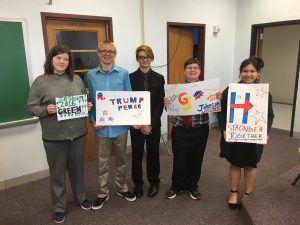 Mr. Edward Stevens is the teacher who started the idea at Holman as a way to give students a taste of what voting and a rally is like.
"My first mock trial was George Bush vs Al Gore, and I've had three conventions since then," Stevens said. "The convention is important because it gets the students excited about politics at an early age. I hope they'll carry this with them until they're older so they'll be excited to get out there and vote."