MULTIMEDIA Orchestra gets ready for trip to Seattle
Hang on for a minute...we're trying to find some more stories you might like.
Every year, Pattonville chamber orchestra members get on a bus to travel to a different city for a competition. This year though, they are traveling by plane to Seattle, Washington. Both the students and teacher Mr. Michael Dunsmoor are excited to be going to this far away city, and it will be the first trip orchestra has taken by plane.
"This is my first time going to Washington. I've heard a lot of cool things about it," Dunsmoor said. "It'll be fun to go to a trendy city and explore."
He also mentioned going to Starbucks a lot.
Last year, the trip was a 9-hour bus ride to New Orleans, Louisiana, which gave the students a dose of southern history at Oak Alley Plantation, as well as some jazz history during a visit to Preservation Hall, which is located in the French Quarter. The group also visited Bourbon Street and enjoyed some beignets at Café du Monde while listening to the trombone player right outside. Some other sites they saw included attending a showing of a World War II 4-D movie at the WWII Museum, and taking a tour of the Mardi Gras floats at Mardi Gras World, where they were given king cake. They ended the trip with a boat ride in a swamp, where they were surrounded by alligators, and even got the chance to hold a baby alligator.
Unlike last year's trip, chamber is the only class going, but Dunsmoor decided to invite seniors in concert to go, as it is their last year in orchestra. Senior Isabel Disalvo is one of the seven seniors going.
"I'm really excited because we get to go on a plane instead of a bus," she said. "[Also] I've never been there, so it'll be someplace new."
Senior Andrea Moreno is ecstatic for her second and last trip with orchestra.
"I've never been to Seattle," she said. "It should be a nice experience."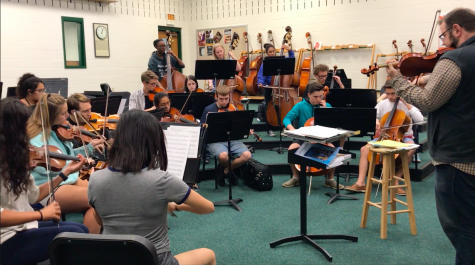 Students are preparing music for the WorldStrides competition already, and because two different levels of orchestra are performing together, Dunsmoor has to choose music that is accessible to both groups.
"[There's] some cool stuff that'll be pretty doable for us," he said. "It's music that we can compete with."
The group is leaving on April 4. In the five days they will be gone, some places the group will be visiting include Pike Place Market, Bill Speidel's Underground Tour, and the Space Needle.
"I can't wait to see the Space Needle," Moreno said. "I've always seen it on iCarly, and I'm excited to see what it looks like in real life."