Pattonville Robotics club to compete at the state championship
Hang on for a minute...we're trying to find some more stories you might like.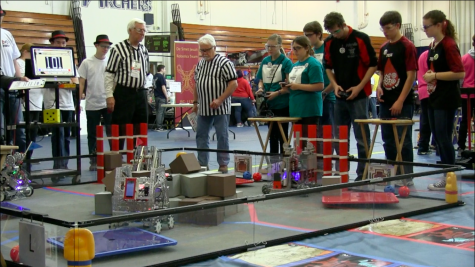 The Robotics club hosted an official robotics competition for teams all across Eastern Missouri to compete against each other on Saturday, Jan. 28. Both of the Pattonville teams did exceptionally well with one of the teams, 2867 Degrees of Freedom, leading the pack and ending in first place by the end of meet.
In the past few months, 2867 Degrees of Freedom has qualified to compete in the state championship in Rolla Missouri.
There, if the team performs well, will move on to the Super Regionals Championship which takes place in Athens, Georgia, where state champions from 13 different states will compete.
Team member junior Yasaman Mostafavi knows advancing to state takes a lot of work.
"Getting to state takes a lot of dedication and teamwork," she said. "We've spent months putting together a robot, documenting our progress, and doing outreach for the club. We are pretty excited to compete and hope we get enough practice to do well."