Ms. Schwendemann wins District Teacher of the Year award
Hang on for a minute...we're trying to find some more stories you might like.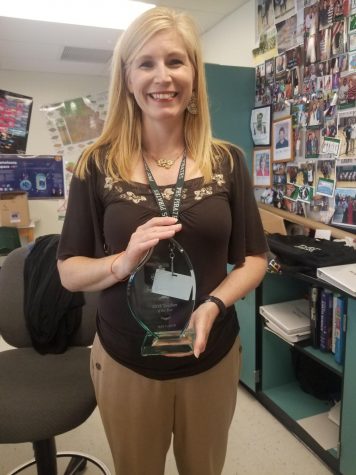 High school science teacher Ms. Amy Schwendemann was named the Pattonville School District Teacher of the Year.
She was awarded the district honor during District Appreciation Night on May 7.
Schwendemann was surprised when she found out she had won.
"For the most part, I felt very surprised and also very honored," she said. "I originally did not think I would win, but after I was told I was a finalist, I realized I had a chance. There's so many amazing teachers in the district and to be given this opportunity was incredible. "
Other finalists were Instructional Specialist Kimberly Dannegger from Parkwood Elementary and Rose Acres 4th grade teacher Mary Spitzmiller.
During her 16 years as a teacher, her approach has gone from a teacher-driven classroom to a more holistic style. She has made it a priority to step out of her comfort zone to learn and implant new teaching styles. To do so, Schewendemann has flipped her classroom and is integrating more project-based learning activities into her classes.
Through changing my teaching style over the past few years, I have found that my students are much more engaged and are retaining what they have and are learning in real life situations," she said in an interview for the District Appreciation Night handout." I want my students to walk away from my class and have the confidence to begin the next chapter in their lives."
She is very grateful for all the great students she's had.
"My amazing students are really what got me here. With their help building the green house, we got the public to see what Pattonville students could do."