Photo of the Day Oct. 3
Hang on for a minute...we're trying to find some more stories you might like.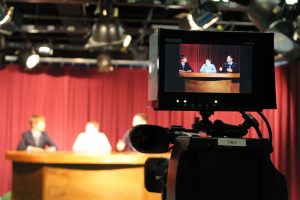 Pattonville First Take recorded today's episode in the PirateTV Studio. The students in Ms. Florence's TV Production class managed the cameras during the live recording of the weekly sports talk show. When the tape is finished being edited, it will be uploaded to PattonvilleTODAY.com for viewing.
The hosts of the weekly show are Brady Bell, Phillip Scherer, Joey Schneider and Tim Vleisides,