Students and staff run toward success in St. Louis GO! Half-Marathon
Joey Schneider
April 8, 2014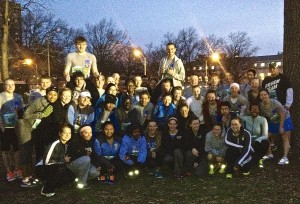 For all of the students who feel they can't push themselves through the mile time trial in physical education classes, here's a sense of motivation: Nine staff members and 37 students from Pattonville's half-marathon club recently completed the St. Louis GO!, a 13.1 mile race consisting of 6,213 runners in downtown St. Louis.
On the morning of Sunday, April 6, the club participated in the race for the third consecutive year and ran the course around several St. Louis landmarks like Busch Stadium and Soulard Market. Since the beginning of second semester, the Half-Marathon club has been involved with Students on the GO!, an exercise-based program offered to all public high schools in St. Louis County.
"The most enjoyable part of sponsoring the club is seeing the students' excitement on the day of the race, and better yet their pride and joy after crossing the finish line," said Pattonville half-marathon club sponsor Shelly Ewig. "I simply adore all of the students and teachers who push themselves week after week with the goal of the half marathon driving each step."
In order to prepare, half-marathon club focused toward building physical fitness, strength and perseverance in individuals for over three months. Students and staff ran around two miles to begin practices in early January, but gradually increased mileage after running two school days on a weekly basis.
"It is so important for students to train so that they can increase their endurance, strengthen their muscles, learn how to pace themselves, and avoid injury," Ewig said. "By the time the race arrived, the students were ready and confident in their abilities to run the full 13.1 [miles]."
Additionally, the group organized Saturday practices at Forest Park until Spring Break that allowed students to run longer distances without time constraints. While the club worked around schedules of athletes in winter and spring sports, students were not allowed to have more than three unexcused absences and expected to make up runs for the practices missed.
Although Pattonville offers other opportunities for students to run competitively such as Cross Country and Track, Students on the GO! provides different incentives for running. Students who remained involved in the program received a pair of running shoes, two t-shirts, an athletic jacket and a medal after paying a $15 fee.
"Half marathon training is more about easing your body into the mileage," said Senior Alexandra Rauscher, who also ran for the Varsity Girls Cross Country team in the fall. "You don't want to do too much mileage with cross country either, but jumping into running 4 miles is a lot different than trying to run 12 before you are ready."
Rauscher earned 7th place in the Female 19 & Under Age Group and finished the race in 1:45:37, the fastest time among Pattonville female contestants.
"The first thing I felt was relief that it was over," Rauscher recalled after finishing her second half-marathon in two years. "But after I had a few seconds to let everything register I felt very accomplished in attaining my goal time (1 hour, 45 minutes)."
Senior Devin Olds was the top student finisher from Pattonville and placed 8th in the Male 19 & Under Group with a time of 1:34:58.
"It was definitely exciting to finish and it means a lot to me," said Olds. "I learned how to push myself beyond what I believed to be my limit."
Among the nine Pattonville faculty members who ran, Ewig completed the race in just over two hours (2:00:18), while science teacher Christian Dornhoefer finished 67th overall with a time of 1:29:04. Staff sponsors not only involved themselves in practices to prepare for the race, but helped students achieve goals and maintain fitness throughout the training.
"The staff helped a lot by emphasizing the importance of practicing and also gave great tips for pre and post race care of your body," Rauscher noted. "I definitely felt that [the staff] did as much as they could to keep us safe and help [every student] succeed."
For more individual times of Pattonville students and staff visit this updated page. All times were reported via GO! St. Louis website.