Will the next Pattonville basketball great be Kellen Thames?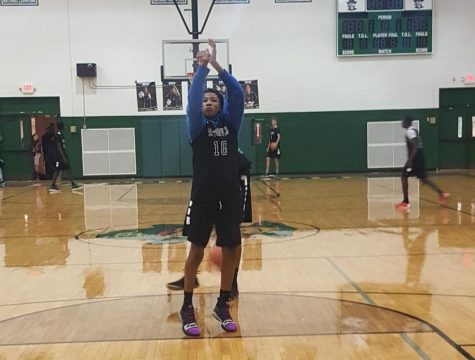 This winter season, fans of Pirates boys' basketball will witness something they've never seen before: a Thames playing on the court at Pattonville. Kellen Thames is a freshman this year and is the son of varsity head coach Kelly Thames.
Kelly is currently a business teacher and the head coach of the Pattonville varsity boys' program, but when he did play basketball, he was nothing short of greatness.
The father attended Jennings High School before playing Division I basketball at Mizzou. Unfortunately, on Sept. 26, 1994, he tore his Posterior Cruciate Ligament while doing conditioning drills before the start of his sophomore year. It has been calculated that if Kelly would not have been injured, he would have helped lead the Tigers to their first ever Final Four appearance, something they have yet to do.
The 2005-06 season marked the 100th in the University of Missouri's men's basketball history, and in accordance with its season-long celebration of the anniversary, Mizzou announced its All-Century Team. Kelly Thames was one of 10 players chosen by fan voting in addition to Mizzou's 20 All-Americans named to the 30-player roster.
Luckily for Pattonville – and who knows, maybe Mizzou – there is another Thames making his name on the basketball court. This Thames is current freshman Kellen.
Girls basketball coach Lisa Foust said, "Kellen has a sweet game, he plays beautifully."
However, 6-foot Kellen has some big shoes to fill when compared to his 6-foot-8-inch dad, but he's not concerned.
When asked if he could take his dad one-on-one he said, "No doubt! He's not that good."
On the other hand, injured or not, Kelly, who ranks as the No. 8 all-time scorer at Mizzou with 1,689 points, thinks he could beat his son "easy."
If you can't tell, the two have a very close relationship.
Kelly has been coaching his son since he started playing at 6 years old. Kellen loves having his dad coach him.
"He's the best coach for me because he knows what I can do and how to push me."
Off the court, the two still have a strong relationship.
"When I'm coaching, it's coach," Kelly said. "When we go home, I'm just dad."
Even though these two are a really close father-son duo, don't expect to see them together much around the school outside of the gym.
"When we come to school, we go our separate ways," Kelly said. "I like it that way. I'm really just here in case he needs some money. He doesn't just come up [to my room]. He just has his dad in the building."
Kellen, who has gotten off to a fast start scoring 22 points in his first two games, will hopefully be a varsity Pirate for the next four years.
It seems like a long time, but ask any high school senior and they'll tell you it goes by really fast. Kelly believes it will be a quick time, but Kellen isn't worried.
"Even without basketball, he's always gonna be in my life," Kellen said. "Even if he isn't coaching me, we'll still interact, so I'll be OK."
The Pirates opened their 2018-2019 campaign Nov. 26-30 playing in the 52nd Annual Jerry Boeckman Memorial Vianney Invitational. Pattonville will play their first home game of the season on Friday, Dec. 14. at 7 p.m. against Kelly's alma mater, Jennings.
Leave a Comment