Music Programs Spread Holiday Cheer
Voices of kids, scraping of chairs, parents crowding with cameras, instruments playing, stage lights shining and Christmas outfits. This year it's not like that, unfortunately.
According to band director Mr. McFarland, "A whole lot of consideration has been made but the main factor is trying to balance the virtual classes and in-person classes."
A lot of classes including music are different than previous years. Mr. McFarland remarks that "the biggest change is usually every class period would perform the same songs at our winter concert but this year track A and track B students are doing different music."
All music directors have goals when directing music in order to be successful. Band director Mr.McFarland explains that he is trying to "make sure it is as fun as possible and make sure the songs have the appropriate time for the amount of help that they get currently."
One big factor in choosing songs to play is figuring out who is going to do what and what to change. Mr. McFarland says, "It was simple. We just took who we knew was available for what instrument and who to feature was honestly chosen for us for the circumstances that we have right now. Currently band can't perform all together because "some people are online and others are in person."
Despite unfortunate times, there are some good things that have come out of these changes for music. Mr. McFarland says he is excited that "we are still able to be together and produce evidence of their work."
Alto Saxophone player Isabelle Usry explains that some of her own personal goals this winter season is to "be a better and stronger player by making my noise easier to bare and my notes go lower and higher than I already know." Usry also plays the tenor saxophone in Jazz Ensemble.
Preparing for concerts is important even if they may not be in person. Isabelle claims that she "begins each warm up by playing a scale and going through each note, jumping between octaves."
Usry is most excited about "doing something I love as well as being surrounded by the same." She adds, "The smiles and welcoming energy I receive from my peers is amazing."
In addition to a band program, PHS also has an orchestra program. They both have several similarities including using instruments to make music.
Orchestra Director Mr. Dunsmoor states that he found himself having to really "scale back our music selections this year." He had to reduce the amount of music the orchestra plays this holiday season for their virtual concert.
Several changes have been made this season to ensure that the orchestra can still perform in a virtual way. According to Mr. Dunsmoor, "Because the performance was something that we have been anxiously awaiting, coupled with an unpredictable rehearsal schedule, I tried to select pieces that were accessible for very smaller in-person ensembles (and sometimes for unique instrumentation)." Virtual students also had the opportunity to "select their own instrumental solo that they could play with accompaniment through SmartMusic."
Every music director has one goal in mind in order to be successful. "While it's usually my goal to introduce new pieces and have fun playing it along the way, I really aimed for finding accessible music that would not take much rehearsal time to prepare."
Mr. Dunsmoor explains, "Because every ensemble has its own strengths and weaknesses, I typically select one to two pieces MORE than what we'll end up playing. Sometimes it's an ability thing… other times it's just that everyone hates the piece. Ultimately, I have to feel it out for every group."
Although the season is not ideal, there's still plenty to be excited about. Mr. Dunsmoor says, "I'm mostly excited about diving further into topics such as music theory, composition, and history next semester–topics that are often glossed over to make room for performance preparation."
Violin player Meredith Stroud says her goal this winter is to "be able to perform well."
According to Stroud the biggest difference is "the number of people. It's harder to get timing down because of the amount of people we have." She adds, "I miss getting to play with everyone. I think it's the best part."
Stroud believes that "in person is a lot better because on Zoom we can't play together." According to Stroud, she is excited to "just see the final product and knowing our hard work paid off."
Just like in person students, virtual students are also struggling to have the same unity of playing instruments all together. Cello player Matthew Jacobi has a Christmas solo that he will submit through SmartMusic. He claims the most exciting part about getting a Christmas solo was he "got to choose what song he wanted to play." Usually orchestra plays three to four songs a class but sometimes "the songs are good but others I don't like so I'm glad I got to pick my own song."
Just like directors students also have goals even if they are online instead of in person. Jacobi explains, "I want to dedicate some time over break to my cello and eventually play a solo outside of class." He adds, "I haven't had much time to dedicate to the cello because I have multiple honors and AP classes."
The one difference between online and in person is virtual students were given the opportunity to do a Christmas solo. According to Jacobi, "We didn't really do anything to qualify for the solo except choosing the virtual option to school. All that was required was the backtrack of our song was playing in the background."
There are also many choirs offered for students to take for different ages and music levels. Choir director Mr. Baker explains the factors that went into choir this winter: "The fact we saw a third of the choir students in each class face to face every other day, and the other students remotely made it very difficult to prepare choral music. That is why we chose more solo literature."
For choir the "normal" is not happening this year, meaning there are no concerts, competitions, and caroling. Mr. Baker explains, "Due to Covid restrictions, there weren't any winter concerts or holiday programs. Events such as caroling at the airport were also suspended this year."
Mr. Baker says his goals for the choir is "We tried to take a more individual approach this year with solo literature so we could focus on personalizing technique with our singers. This will help our preparation for Solo/Small Ensemble festival in the spring."
Even though choir cannot perform this year there are some positives: "I am excited about preparing kids to sing their solos. A positive thing about not having choir concerts is that we can focus on each individual singer to make them a stronger vocalist and better musician."
About the Writer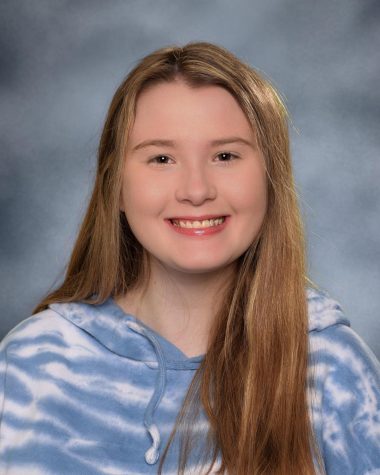 Mackenzie Rosenthal, News/Features Editor
Mackenzie is a junior and the News and Features Editor for Pirate Press and PattonvilleTODAY. This is her second year on staff. Mackenzie attended an online...