Seniors Reflect on Personal Highlights
Growth. Walking with their heads high, some students continue their high school careers with thoughts of optimism of what's to come. Bearing the weight of the pandemic has shifted the senior mindset.
Current senior Ava Woods believes her point of view has changed significantly due to quarantine. "I became more independent– I had to push myself for school and work, I realized how much I care about certain topics I'm now very passionate about. You really need a sense of drive to get things done."
Internal motivation is one characteristic that successful seniors embody. Senior Nick Serra stands by this idea that his progress in his education is decided by him and only him: "The only one I really have at the end of the day is myself. I did lots of working on myself this year, and realized that I need to focus on my achievements and work instead of putting focus on things that didn't really matter. My personal progress is more important than how I am perceived."
Taking control of work ethic, both Nick and Ava go about their school day differently than last year, mainly due to self awareness skyrocketing. According to Nick Serra, "Things are very, very different. A lot of things used to matter to me that don't matter anymore and once I cut those strings I felt more liberated. I live a more peaceful life. A lot was going on last year, but working on it and through it has felt nice. Growing out of the toxic pasts and bad habits have shaped me into a new form even while dealing with Covid."
As he reflected on his high school experience, Nick described his performance of an original poem during Writers Week 2020. "It helped me sort of move on from past feelings. My work gave me closure. It also made me realize I enjoy writing and performing. It was a good way for me to express myself and doing that with an audience really made me feel like I did something. I felt very accomplished."
Noticing the shift in her own attitude, senior Lauren Banks explains, "I'm usually pessimistic, but since I'm close to graduating, it feels like a lot of change can happen. Pursuing passions will be very cool, despite not knowing my future step by step."
Banks credits her curiosity for her drive: "I'm not completely satisfied with things right now, [and] curiosity keeps me going to see how things change. You kind of just have to keep going until you're content with it all."
Because senior year is typically a time of reflection, senior Ava Woods recalls one of her most memorable accomplishments: the journalism award she received, a "Best of SNO Award." Woods says that out of 4530 stories, her story and one by senior Imani Warren, received the designation. They were both sophomores at the time. For Warren, the award was "exciting. I worked hard to get it."
As seniors wrap up this chapter of their lives, the sentiments shared by Ava Woods may be most appropriate: "Man it was hard, those late nights and sleeping in on accident. It was definitely all worth it. Especially making good friends…not just a school friend, but a life friend, someone I really connected to."
About the Writer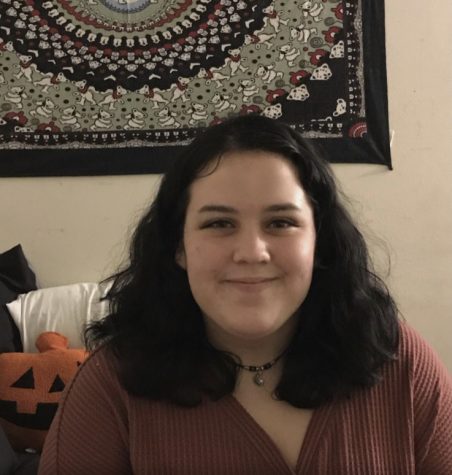 Ella Lawrence, Staff Writer
Ella Lawrence is a senior in Intro to Journalism. She enjoys art and spending time around St. Louis with friends. She also likes exploring different genres...